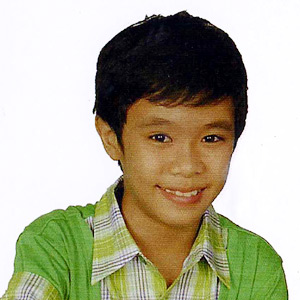 ---
Birit Baby 2009 grand champion Jude Matthew Servilla is the latest singing sensation and child wonder in Eat Bulaga! His rendition of the Wency Cornejo original "Hanggang" endeared him more to televiewers, allowing him to win the People's Choice Award with text votes of over 70,000.
Jude's exceptional singing voice together with his soulful version of the song, made him stand out from among the contestants. The 12-year-old boy from La Carlota City, Negros Occidental took home cash prizes and earned for him a thrice a week slot in Eat Bulaga!
The eldest son of Wilfredo and Georgina Servilla, Jude learned to sing at the age of five. He's a choir member in his province and a product of amateur contests where he honed his singing prowess. His favorite singers are Wency and Regine Velasquez and he looks forward to having a duet with them in the future.
At his young age, people are amazed by his high singing voice and the fact that he sings with so much emotion. Jude admits that his sad experiences in life and his family's social standing in the province give him inspiration to pursue his dreams.

But after winning the Birit Baby title, things are getting better for Jude and his family. Eat Bulaga producer, TAPE Inc., is supporting Jude's high school studies and takes care of their place in Metro Manila.

Soon, Jude will be seen in his own segment in Eat Bulaga titled "Songs from the Heart," in response to requests of viewers and his fans.

Jude continues to hone his singing prowess and hopes to record an album someday with some of his favorite singers. But for the meantime, Eat Bulaga is Jude's newest home where viewers can enjoy hearing his unique voice and charm that made him a singing sensation and child wonder.


Eat Bulaga! airs lunchtime on GMA-7 from Monday to Saturday. (CLICK HERE to view Jude Matthew's winning moment during the contest)
ADVERTISEMENT - CONTINUE READING BELOW