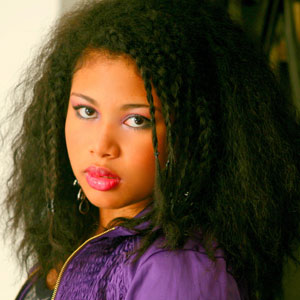 ---
Gahlya might seem an unusual name for a 14-year-old Filipino-American pop and R&B singer. However, sci-fi aficionados might recognize that her name is derived from Adi Gallia, a Star Wars female Jedi Master under the call sign "Shooting Star."

This month, Gahlya was tapped to serve as the front act for The-Dream, the Grammy-award winning R&B singer and songwriter who has written hits like "Umbrella" for Rihanna and "Put a Ring On It" for Beyonce, with vixen songstress Christina Milian. This event took place at the UC Irvine Bren events center in California.

People say that a minute can change your destiny, but for Gahlya it was a surprise email that gave her a U.S. recording contract and prompted her to change her name, Rachel Razon, to her new screen name Gahlya.

"I just thought, this is my chance, this could be the beginning of possibilities and opportunities," Gahlya shares, remembering when she received the email to fly to Los Angeles and do a demo for Manny Mijares, owner and executive record producer of Upscale Recording. This music company counts R&B acts like Musiq Soulchild and Christina Milian among their talents. Gahlya had met Mijares before at a music convention in 2008 when the teen joined the World Championship Of Performing Arts (WCOPA) in Hollywood.

Gahlya won Junior Grand Finalist for the song "Good Morning Baltimore," but it was the chance meeting with Mijares that changed Gahlya's course. "Manny was giving a talk and I raised my hand to ask how a young teen like me from the Philippines could make it in the U.S. recording industry," Gahlya continues. The record producer called her to the stage, and asked Gahlya to sing and she sang "Big Girls Don't Cry." Mijares was in awe of Gahyla's spunky confidence and fresh R&B vocals that after the demo he signed her up with Upscale Recording.

When asked to describe her music, Gahlya calls it "a fresh new sound mixed with old school R&B with a new school futuristic twist" citing the '90's hip hop groupTLC's laid back swag and Lady Gaga's no nonsense avant-garde edge as influences.


"I love the late Aaliyah too, and Lady Gaga, she's bold, she's different, I mean if it is who you are then it is who you are. That's what I want to incorporate as Gahlya." A taste of Gahlya's sound can be found in "Hypno," her single released last September 8, smacking of teen electro pop, while her upcoming single "Be the One" a remake of singer Stevie B's song has a more breezy, peppy, pop groove.

New fans will be pleased to hear that there is more where that infectious, youthful vibe can be found. Gahlya has been recording her debut album in the U.S. under Upscale Recording in Orange County since July of this year with collaborations with songwriters from Disney, Interscope, Jive, and many well-known industry hitmakers. The "Hypno" music video is also in the works by Hollywood music video production designer David Courtemarche, who has done the music videos of Britney Spears, Janet Jackson, and JayZ to name a few.

While things have been spinning fast for the teen, Gahlya is very grateful for the opportunities that came her way, "A lot of people can approach you and tell you that they will hear your demo but Mijares has really spearheaded my career. He has a lot of hopes and dreams just like I do," she shares.


Mijares also pushed for the change from Rachel Razon to Gahlya. "With Rachel, there are a lot of Rachels, but we wanted something strong and futuristic as well. The name Gahlya not only comes from the Star Wars character Adi Gallia, I flipped up the name and included the Y to incorporate my two inspirations Lady Gaga for her boldness and Aaliyah for her swagger to make Gahlya," the teen singer explains.

As projects are propelling her to make a name in Hollywood, Gahlya is beaming with Filipino pride." I want to make a dent in the U.S. and to bring that to the Philippines and say that, hey, there is great talent here, look!"


In the Philippines, Gahlya beams with pride when speaking of the world champion Philippine Allstars artists and hip hop dance crew, as her mentors who have helped her in her development as Gahlya, "meeting the Philippine Allstars and choreographer Sheena Vera Cruz has given me so much confidence and pride in being not just a Filipino artist but a Filipino!" Gahlya is also a proud performer for Trumpets Playshop Teens. Previous to that she took voice and acting lessons at ABS-CBN in 2005 after moving back to Manila.

When asked if she would like to have a music career in the Philippines, Gahlya breezily answers with a broad smile. "I think I want to take one country at a time." After all, Gahlya is still a teen—a high school freshman, an avid book lover, a Twilight series fan, and a fashionista with an irresistible penchant for shoes—simply coping with the surrealism of it all, taking it one shooting star at a time.
ADVERTISEMENT - CONTINUE READING BELOW