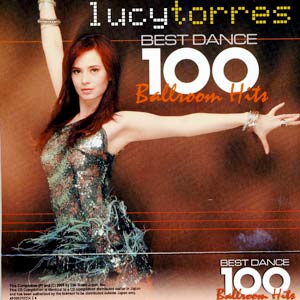 ---
Television host Lucy Torres-Gomez never expected to have an album. But like most of the things that happened in her life, a record deal is just one of the many blessings Lucy would rather embrace than shun.
To set things straight, one won't hear Lucy singing in her debut album titled Best Dance 100 Ballroom Hits released by PolyEast Records. The four-disc album is actually a collection of pop standards given an orchestral arrangement meant to accompany ballroom dancing.
"Actually this is a bestselling album in Japan and then they released it locally. I think my PolyEast family found out that I really, really enjoyed ballroom dancing even outside my job as host of Shall We Dance? So they asked me if I am willing to be part of the album and, of course, I said yes," Lucy told the members of the press last December 2 at the Discovery Suites in Ortigas, Pasig City.
Being a done project with the songs already compiled, Lucy's involvement in the project is lending it a face and name for marketing purposes. But no one, of course, would question Lucy's selection since it is evident that the wife of actor Richard Gomez has been promoting ballroom dancing for several years already through her TV5 show.
OLD AND MODERN FLAVOR. Proving that ballroom dancing transcends era and age boundaries, Best Dance 100 Ballroom Hits boasts an eclectic mix of titles originally belonging to various genres of music that became popular in various decades.
Some of the tunes in the album are "Besame Mucho," "Without You," "As Time Goes By," "Summer Time," "Smoke Gets In Your Eyes," "My Funny Valentine," "Moonlight Serenade," Raindrops Keep Fallin' On My Head," "New York, New York," "Moon River," "Love Is A Many Splendored Thing," "The Way We Were," "Too Young," "Ebb Tide," "On The Street Where You Live," "Try To Remember," "From Russia With Love," "Rock Around the Clock," "Last Waltz," and "Save The Last Dance For Me," among many others.
ADVERTISEMENT - CONTINUE READING BELOW
Lucy is a self-confessed lover of standard tunes and describes herself as an "old soul," though she also confesses being fascinated with the 80's music popularly known as New Wave.
"I listened to it [album tracks] before I said yes," revealed the soft-spoken host. "The songs are really a matter of taste. In ballroom dancing there are the standard dances and then there are also the Latin dances which I really like. Ito kasi 'yong type of album na, especially during fiestas in different cities, it's the type you play the whole night and people won't stop dancing."
Accepting the project, said Lucy, is also another way for her to further promote and advance the art of ballroom dancing to a wider market.
"It's getting popular, especially with the younger set. I remember I was just talking to Tim Yap last week and what used to be Embassy [controversial high-end nightspot in Taguig] is now called Anchor and it's really a ballroom dancing club," smiled Lucy.
Best Dance 100 Ballroom Hits by Lucy Torres under PolyEast Records is now available in record bars.