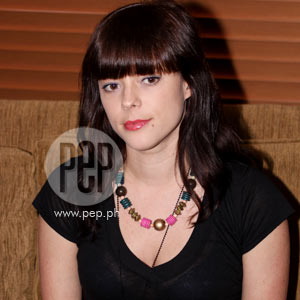 ---
There's something about Australian singer Lenka's music that reminds you of children's rhymes. Log on to YouTube, watch her videos, and you'll be greeted with happy, dream-like pop that comes with a dash of vibrant, colorful graphics that are a veritable feast for the eyes. You'll soon realize that angst-ridden, female music—made popular in the 1990's by Alanis Morisette and Sheryl Crow—is dead. Pop, seen with a sense of wonder, is in. Says Lenka, "I set out to write uplifting, happy music because it's more difficult to write a happy song than it is to write a sad song."

Lenka started as an actress trained by Oscar award winner Cate Blanchett. It's a past that the press—and the Philippine press is no exception—always brings up. "I wish it didn't have to be mentioned," she says, but without a hint of animosity. "Because then the assumption is there that I'm going to be the Kylie Minogue-type."

Kylie Minogue or not, she'd be the first to admit that working previously as an actress helped her music career. "When I started doing music in Australia I was in a band and I had a film out. It was great because I was in this little indie band that didn't get that much press but because I had a film out, I was able to help the band get awareness out there by doing presses both as a singer and an actress."

Her acting training also helped her as a singer, especially the pointers she got from one of her trainers, Cate Blanchett. "She definitely taught me about presence on stage, which can cross over to any medium. And in general, just loving your craft and respecting your craft and doing it for the right reasons. I really took that on board and I kind of transferred that into music and try to give it the respect that it deserves."
ADVERTISEMENT - CONTINUE READING BELOW

At this point, the Los Angeles-based singer has decided to put acting into the backseat and devote her life to music, which has proven to be more artistically-fulfilling. It has given her the freedom to go in the direction that she wants and still pursue art, which has proven to be a staple in her life. "I wanted to do something with a bit more creative control. I went to art college and I majored in sculpture. I thought I'd want to be a visual artist and I found that a little bit too much hard work. I realized I'd want to do performing and I really am an entertainer. It just really quickly felt more satisfying and empowering to me." Choosing music over acting is slowly proving to be the right choice, now that her songs have been featured in shows like Ugly Betty, 90210, and Grey's Anatomy.

Music is also giving her the chance to travel and know more about foreign cultures, a perk that only the biggest actresses can only enjoy, but is something that is part and parcel of all musicians, from the biggest acts to the fledgling ones. During her recent visit to Manila, for example, she got to see the country's historic Fort Santiago. "I think it's always nice to get a little taste of the history and culture of a new place. I had no idea before coming to the Philippines about this whole Spanish thing." She even got to know a little about the country's national hero, Jose Rizal. "It was really cool."

Even better, she got acquainted with Filipinos when she performed in three mall shows held from December 11-13.


She has this observation about Pinoy viewers: "They're quite polite, not really rowdy like in some Asian countries that are really, really loud. But everyone's singing and everyone clapped and everyone got into it. I felt like it was really special. It was really lovely."


Lenka's self-titled album is available in record bars under Sony Music. It includes the chart-toppers "The Show," "Trouble Is A Friend" and her new single "Knock Knock."
ADVERTISEMENT - CONTINUE READING BELOW