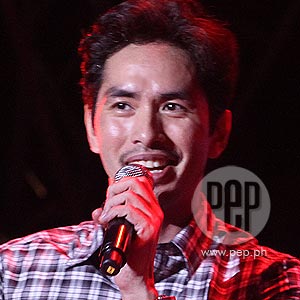 ---
He's a rock artist, and he's a dancer, too!
Rico Blanco shows off his dancing skill in his newest music video for "Ayuz," the fourth single in the album Your Universe.
At the press launch held recently, Rico said that the music video was like a realization of his dream. "It's almost like a dream come true for me to have a video where I'm dancing," he said.
Then, he further continued, "Not a lot of people know, but almost everyone close to me knows that I have been dancing since I was small, even before I was in my first band.  I was already joining and winning dance contests as a kid."
However, Rico had to set aside his passion for dancing when he discovered his gift in music.
He related, "That eventually got pushed to the side when the whole band explosion happened.  Apparently, in this country, there was a time when people believed that rock music and dancing cannot happen inside one person. But I just don't believe that.  I know a lot of fellow musicians who can dance." 
As he talked about his dancing experience in the music video, the multi-talented musician couldn't hide his excitement about doing what he used to do when he was younger.
He described, "It was a trip for me to finally be able to do it!  For the people who have followed my shows, they would see that once in a while, you know, I'd break into short dance number in my concerts.  But to have a full video where I was just free-styling, it's a thrill for me."
RICO ON WRITING SONGS.  All of the songs in Your Universe album were written by Rico Blanco, and each track can tell much about his musical influences.
ADVERTISEMENT - CONTINUE READING BELOW
He refused to drop names, but he said they were one of the inspirations behind his songs. "I listen to a lot of music all my life so it's hard for me to pinpoint one or two artist that have influenced me, it'll be unfair. Probably, I'm influenced greatly by the music that I heard unconsciously so they probably come out to my music unconsciously," he explained.
"Ayuz" is already the fourth single released from his ten-track album, and if he'll have his way, Rico wants all songs to be released on air.
He said, "Every time I write a song, I don't treat it less because it's not going to be a single.  I put every thing into every song I write, I record.  I wish all the songs were given their time in the spotlight.  But that's how the industry works, I've accepted that already. 
"I'm happy that the real music fans check out the entire album, they don't just download the singles.  If they want to find the gems, they really listen to the album as a whole, that's how they get the whole story."