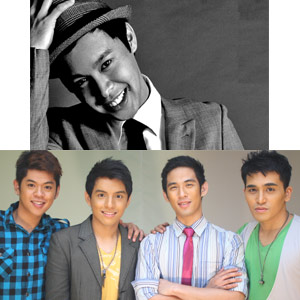 ---
An all-male vocal group and a soul artist were recently introduced to the press during a launch party that had the theme "Strength, Courage and Soul." Last February 28, Artist Management's Chad Arrieta introduced 100 Percent and Zion to the press members assembled at the Technowave in Il Terrazo, Tomas Morato, Quezon City.

100 Percent is the newest all-male pop vocal group to hit the local scene while Zion is a soul artist. The members of the group hope that their musical careers will soar under the tutelage of premiere vocal arranger and manager Zebedee Zuñiga.
At the start of the program, 100 Percent serenaded the audience with the songs: "I Stay In Love" (Mariah Carey), "Ang Aking Awitin" (Bong Gabriel), "I Just Can't Stop Loving You" (Michael Jackson), "Kung Ako Na Lang Sana" (Bituin Escalante), "Angel of Mine" (Monica) and "Make It Happen" (Mariah Carey). On back-up vocals were Cecile Rojas, Elea Floresca and Zebedee Zuniga.

Afterwards, Zion then sang "Strength, Courage and Wisdom" (India Arie), "Heaven Only Knows" (John Legend), "Used To Love You" (John Legend), "Waiting On The World To Change" (John Mayer), "Like A Star" (Corrine Bailey Rae), "Man In The Mirror" (Michael Jackson), "That's Just My Way" (Eric Benet), "To Make You Feel Love Me" (Kris Allen), "Rehab" (Amy Whinehouse), "Stay" (Gavin de Graw), "Someday" (John Legend), "Englishman In New York" (Sting) and "Superstitious" (Stevie Wonder).
Zion also sang his own compositions titled "Don't Leave Me" and "Kasagutan." He also had a duet with Yosha as they sang Vivian Green's "Fanatic." He later performed with Meryl David for Jill Scott's "A Long Walk" and with Yeng Constantino for the Erykah Badu song "In Love With You."
ADVERTISEMENT - CONTINUE READING BELOW
ALL-MALE GROUP 100 PERCENT. Composed of four male singers, 100 percent was formed through an online search conducted by Zebedee Zuniga and Chad Arrieta.
Timothy Ludovica, 24, is the big brother of the group. He has been working as a print and ramp model for the past four years. "I'm modeling for Facets Models and Artists for quite some time. I've modeled for different famous clothing brands and apparels like Penshoppe, Human, to name a few." Aside from being a bank phone officer, Timothy is also moonlighting as a wedding singer.
Before auditioning for 100 Percent, Timothy should have been part of another all-male vocal group but this did not last long. He admitted, "I was disheartened when it did not flourish. Sayang kasi may ibang priorities din ako that time. I guess may reason pala at sa tingin ko eto na yun, ang maging part ng vocal group na 'to."
Timothy's musical influences include N' Sync, Justin Timberlake, Gary Valenciano, Eric Benet, Ne-Yo and Michael Bublé.
Another 100 Percent member, Gillian Rex, 21, has appeared in different fashion magazines and fashion shows ever since he moved to Manila from California two years ago. He has also performed in different TV shows such as GMA-7's The Sweet Life and ABS-CBN's Maging Sino Ka Man. Rex has also endorsed a local shoe brand, BClub, alongside young actress Rhian Ramos for its nationwide campaign.
As a singer, he was part of the Top 45 contenders for Philippine Idol in 2006. Through this singing search, Rex was discovered by Zebedee. "I was very fortunate. Though I did not win in Philippine Idol, Zebedee called me up to start a singing group. It all started from there and the search went through."
ADVERTISEMENT - CONTINUE READING BELOW
Like Timothy, Rex previously joined another vocal group before joining 100 Percent. "I'm part of an all-male group called Hit Men but [it] did not prosper. We disbanded because one member backed out," he said. When Hit Men did not make it in the music scene, Rex wanted to give up. "Hit Men did not click and I wanted to go back to the United States after what happened. But I realized I should not quit. From then on, I pursued singing," he said with a smile.
Aside from good vocals, Rex also boasts of a well-sculpted body that he flaunted when he became a finalist in the 2009 Century Tuna Superbods held in Boracay. Recently, he performed with Gerald Salonga and the Philharmonic Orchestra for Ondoy: Tugtugan and Tulungan.
Rex cites Eric Benet, Gary Valenciano, Christian Bautista and Jay-R among his musical influences.
100 Percent member Justin Francis is no stranger to singing competitions. Fans of GMA-7's Are You The Next Big Star? might remember Justin as one of the Top 8 and a finalist of Pinoy Pop Superstar in 2007. Justin hails from San Francico, California but has been residing in Laguna for six years now. He said that he was never tired of joining singing contests because he loves to sing. "I love to sing. I love performing and if through joining singing contests I would become a recording artist, I would do that," Justin proudly said.
Justin also writes songs and gets inspiration through personal experiences and everyday observation. His musical influences include Ray Charles, Mary White, Regine Velasquez and Jaya.
ADVERTISEMENT - CONTINUE READING BELOW
Aaron Josef dela Cruz, 19, is the youngest member of 100 Percent. He's a sophomore Marketing Management student at De La Salle University. Aaron was discovered during a friend's debut when he performed a song for the program.
He was also part of Kundirana, the high school glee club of La Salle Greenhills that used to have singer-songwriter Ogie Alcasid and Gary Valenciano as members.
Aaron's recent projects include the advocacy TV campaign, Ako Mismo, Smart, to name a few. His musical influences include the Backstreetboys, Spongecola, Raymond Lauchengco, Gino Padilla and Jason Mraz.
SOUL ARTIST ZION. Soul music is a genre that is often overlooked. New soul artist Zion, whose real name is Eros Aquino, hopes to make a mark in the local music scene.

He explains why he chose the stage name Zion. "I got the name through from Lauren Hill when the singer got pregnant and named her baby Zion. It's a Biblical term referring to Jerusalem."

Zion has been singing professionally since 2003 when Teri Sambajon of all-female group Vanna Vanna convinced him to pursue it as a career. "At first hesitant pero I tried it until I got used to it na kasi love ko talaga ang singing. It's really my passion. It's in my blood."
He also remembered his roommate encouraging him to audition for Tapas-Tapas in Ortigas, which was his first gig. To date, he has regular gigs around the metro, including establishments such as Tropezz, Greenbelt 3, Slab Ortigas Home Depot, Technowave and Renaissance Hotel.
ADVERTISEMENT - CONTINUE READING BELOW
Zion also tried his luck by joining singing contests as well. Zion was the grand champion in MTV and McDonald's Next Big Thing: The Search for the next R&B Superstar. He bagged a recording deal but he had difficulty dealing with the local music company. "Hindi nag flourish yung record deal kasi we have professional differences. The record company wanted me to sing songs that I don't like. Siyempre if you want to sing yung gusto mo di ba? Yung nanggaling sa puso."
When the deal did not push through, Zion was badly affected. "I was really down and depressed for a long time kasi that recording deal would be my security blanket sana to be officially become a singer pero walang nangyari. Binayaran na lang nila ako."
Zion then joined ABS-CBN's Star in A Million but Frenchie Dy bagged the coveted award. He also joined Star World's Pinoy American Idol where he won the title. ZION also auditioned for ABS-CBN's singing search, Pinoy Dream Academy Season 1 where he became good friends with Grand Star Dreamer Yeng Constantino. He belonged to the Top 50 of the Manila leg of the said singing search.
But it was through GMA-7's Pinoy Idol, wherein Gretchen Espina won, that Zion first caught the attention of Zebedee Zuniga. "Actually, I'm fortunate. I got booted out. Manila leg lang ako during the competition. Last straw ko na sana ang Pinoy Idol pero masaya ako dahil nabigyan ako ng chance through Sir Zebedee."
ADVERTISEMENT - CONTINUE READING BELOW
Zion has also performed as a front act for artists such as Julianne, Nina, Joaquin and Lana Jalosjos. He was also tapped to perform at the MTV Music Awards at the Araneta Coliseum and the MTV Summit at The Fort Open Field.
Now that he is backed up by his own band—composed of Wes Feliciano on electric guitar, Aram Puzon on bass, IJ Garcia on keyboards and Otep Concepcion on drums—the possibilities are now limitless.
Zion's musical influences include Amy Winehouse, Erykah Badu, Jill Scott, India Arie, Eric Benet, Jamie Cullum, John Mayer, James Morrison, Musiq Soulchild, Stevie Wonder, Janno Gibbs, Gary Valenciano and Bamboo.