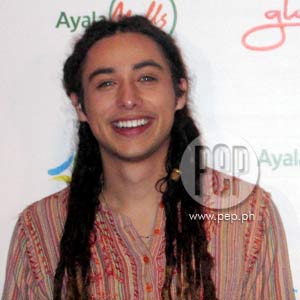 ---
Jason Castro, who finished fourth on the seventh season of American Idol, visited the Philippines last week as part of his four-day mall tour over at the Ayala Malls, from March 18-21. PEP (Philippine Entertainment Portal) and other members of the press had a chance to chat with the American folk singer last March 19 to promote his tour and his upcoming self-titled album.
Jason said his first visit to the Philippines is "amazing."
"The people are nice, and I love the weather," said the 23-year-old singer, who is celebrating his birthday today, March 25.
The recently-wed Jason also cautioned his Filipina fans, whom he described as "nice."
"I don't do kissing," he told them, adding that he fans ask him for a kiss while conducting his mall tours here.
Just the same, Jason was a good sport and posed for pictures with the fans after the interview. He also signed copies of his debut EP The Love Uncompromised EP, which contains five songs, including "Let's Just Fall in Love Again," currently enjoying airplay on radio stations in Manila.
SONGWRITING. In the interview, Jason described how the songwriting process went for his debut EP.
"It always starts differently. You have an idea, lyrically or melodically. You start with one of those. You start building on it. You start playing on it, you already have a story set up, and you just build on it. You try to find the words," he said.
Jason says he's inspired to write sonngs about his wife, Mandy Mayhall. "Actually the first song I wrote was about her. She loved it, she loved all my songs," Jason said.
ADVERTISEMENT - CONTINUE READING BELOW
To make it in the music industry, Jason told new artists to be "undeniable. There's real now one way to do that. Sing as much as you can wherever you can."
NEW IDOL SEASON. Jason Castro admitted he does not get to watch the new season of American Idol because he's busy touring. He said he likes the changes to the show, especially the new judge, Ellen DeGeneres.
"I like Ellen as a judge... I think she's a great addition to the show. She's never done anything in music, but I think she's a music-lover. I think we all are. You don't have to be a professional musician to know what you like or what you don't like."
Jason, however, does not have a favorite contestant in American Idol. "When I last had a favorite, I heard she was already kicked off," he said to the laughter of the fans listening to him.
Watch out for Jason Castro's self-titled debut album, coming out this year and to be produced by Warner Music.