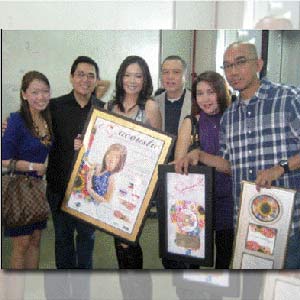 ---
February 21, 2010 marked a monumental day in MCA Music history as acoustic sensation Sabrina won not just one but three awards for her album, I Love Acoustic.


Sabrina, the voice behind her acoustic hits "A Thousand Miles," and "Superman," was awarded in ASAP XV by the President of MCA Music Philippines, Mr. Ricky Ilacad, together with the Domestic Artist & Repertoire Manager Francis Guevarra. The MCA Music team composed of Marketing Director Wilson Cruz, Advertising & Promotions Manager Grace Foronda, and Domestic Label Executive Christina Asperilla was present as the acoustic singer received her local and international awards.

In Indonesia, Sabrina's album clinched the Platinum Status and she was an award by Universal Music Indonesia. When her album attained Gold Status in Thailand, she was sent a plaque of recognition. In the Philippines, her album I Love Acoustic reached Gold status.


Sabrina is one of very few Filipio artists to have an album released in an international territory, and attain the Platinum and Gold Status (both internationally and locally) in a very short span of time.

Sabrina also launched her carrier single "Because of You" from her latest album, I Love Acoustic Too. Released under MCA Music, I Love Acoustic Too features Awit Awards' Acoustic Artist of the Year Sabrina with her acoustic renditions of "Ms. Brightside," "Bleeding Love," "Insomnia" and her carrier single, "Because of You" among others. A symphony of relaxing sounds coupled with Sabrina's sweet voice gives modern hits a unique vibe, making it truly worth listening to.
ADVERTISEMENT - CONTINUE READING BELOW

It is no surprise why people couldn't get enough of this breakthrough artist and her offering. Giving pop hits a different twist, this album transports listeners to a realm of relaxation and provides audiences a revitalizing feeling. It also hits the sentimental touch point of the young, taking them to a trail down memory lane through the songs they have grown up listening to.

I Love Acoustic Too is on sale in all major record bars nationwide. Tracks from the album are also available through mobile download via Globe and Smart WAP Sites. I Love Acoustic Too is exclusively released through MCA Music Inc.