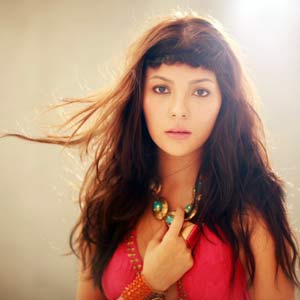 ---
KC Concepcion has always been looked up to by the youth for her inimitable fashion sense, her out-of-the-box production numbers on TV and concerts, to the eclectic roles she chooses in the movies, the products that she endorses and advocacies that she supports.

For this reason, it isn't surprising to know that her independent-mindedness has extended even to her music. In her sophomore disc titled KC under Sony Music, she wrote three of the 12 tracks namely "Magandang Umaga," "Takip Silim" and "Worth The Wait," each of which talked about a different phase in a love story.

The singer-actress also co-produced, with Jinno Mina, four tracks in her new CD. These are "Hulog," "Naantig Ako Sa Yo," "Girl Most Likely To" and "Tayo Na."

For her second album, KC decided to create an all-original album—something that even more established artists have shunned doing in these days of the remake.
ADVERTISEMENT - CONTINUE READING BELOW

Sony Music made it a point to tap established songwriters and producers to work on KC. This list includes Marvin Querido, Jimmy Bondoc, Louie Ocampo, Toto Sorioso, Jimmy Antiporda, Ferdie Marquez and Jingle Buena. The carrier single, "Not Like The Movies," is written no less than by international tune smiths Jaye Muller and Ben Patton.

In her Platinum-selling debut album, aka Cassandra, KC tried out a variety of musical genres. But in KC, she went for a singular pop sound having found her niche, her real voice. Listeners will know this by spinning through the rest on the tracklist namely "Di Bale Na," "Breathe You," "It's Been Awhile" and "After The End."

KC will get multi-media support from her home studio, ABS-CBN, with appearances in all of the network's major shows to promote the 12-track album. The music video for "Not Like The Movies," in fact, already debuted on MYX a few days ago and now enjoys heavy rotation. The song, too, has hit the airwaves with a bang.
ADVERTISEMENT - CONTINUE READING BELOW

KC will come in a special collectors' item packaging, in journal form as the songs somewhat chronicle KC's life in the entertainment industry by far. A bohemian-inspired look will be portrayed in all the album visuals. Sony Music is also arranging KC's mall tour this April and May.