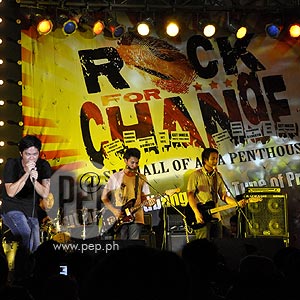 ---
Labor Day 2010 saw the hottest bands in the local music scene "shout and headbang to the tune of progress" as they encouraged the youth to exercise their right to vote come May 10.

Rock for Change featured Pinoy music icons The Dawn, Sandwich, Imago, Rico Blanco, Urbandub, as well as other local bands Paraluman, Shuriken, Kastigo, Tonight We Sleep, Line Divides and Kadangyan. Throughout the night, vocalists of the bands asked the public to vote conscientiously for the good of society.

"Kung magdedesisyon tayo ng mga bagay na mahalaga sa atin--isang malaking desisyon--kailangang pinag-iisipang mabuti," said a short-haired Aia de Leon, the lead vocalist of Imago. "Sa pagpili ng inyong kandidato, kailangang pag-isipan ninyo at piliin kung sino ang matapat talaga. Gamitin natin ang ating mga utak para makita natin kung sino ang nararapat na iboto."

She then quipped: "Ganito rin sa pagpili ng kasintahan," eliciting cheers from the crowd gathered at the SM Mall of Asia Penthouse.
(If we are to decide what's important to us—like a big decision—we need to think it through. In choosing your candidates, you have to give it some thought and choose the really honest ones. Let's use our minds so we can see who's worth voting for. This should also be done when choosing a lover.)


After her humorous lecture, Aia entertained the crowd with her signature song "Sundo." The female vocalist also announced that Imago will be releasing its fourth album this May.

The fun vibe of the evening was sustained by the energy and dynamism displayed by the band members as Rock for Change extended until the wee hours of the morning.


At one point, Sandwich frontman Raimund Marasigan climbed up the speakers and used it as a jumping platform. His electrifying voice and energizing moves on the stage buoyed up the crowd and even his fellow singer Aia since she grabbed a nearby microphone and sang along with Raimund.

Rico Blanco took his time in coming out to perform since the sound system apparently had some technical problems. Nevertheless, he gave a great performance and even asked the audience to clap their hands to give a steady rhythm. Among the songs he performed were "Umaaraw, Umuulan" and "Antukin."
ADVERTISEMENT - CONTINUE READING BELOW

The Dawn frontman Jett Pangan started off the band's set with him on keyboards. He got the crowd all fired up as he performed "Lumiyab Ka." He even asked the crowd for their requests and most of them mentioned the song "Salamat," which they gladly performed.

The last band to perform was the ethnic band Kadangyan, which made use of native instruments such as kulaleng (native bamboo flute), water chimes, mityapi (lute guitar), udan-udan (rainstick), djembre percussions, and gabang (bamboo xylophone).

Rock for Change hosts Jamie Wilson of RockEd and DJ Monica reminded everyone that each Filipino has to take part in the upcoming national elections-that everyone should exercise his right to vote and protect the sanctity of the ballot by saying, "Kung hindi ka boboto, wala ka'ng karapatang magreklamo!" (If you don't vote, you don't have the right to complain!)


Come May 10, the Filipino people will decide who will run the country for the next six years. Here's hoping that Rock for Change fulfilled its goal of encouraing citizens to exercise their right and responsibility to vote for the future leaders of the Philippines.