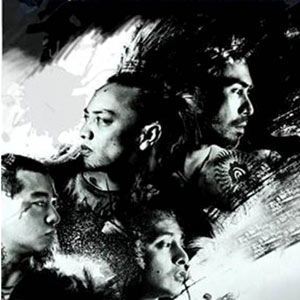 ---
There was great buzz around Franco when the group broke into the scene early this year. Fans first turned to MySpace and YouTube to sample demos. And by the release of their self-titled album under MCA Music in May, the band has already gathered a massive following anxious to hear more. The newly heralded rock superband did not disappoint.
Franco—composed of Franco Reyes (InYo) on vocals, Gabby Alipe (Urbandub) and Paolo "8" Toleran (Queso) on guitars, Buwi Meneses (Parokya ni Edgar) on bass, and JanJan Mendoza (Urbandub) on drums—is a pool of influences from alternative, to metal, to reggae.
Coming together posed no problem because, besides being long-time friends, the guys already have the skills to make anything happen. The outcome is a heavyweight 11-track album swimming in poetic lyrics and progressive riffs.
Franco Reyes's vocal gravitas stands out in the personal "Cast Away" and closing acoustic "For My Dearly Departed." Reyes penned and arranged all the songs, lifting from experience and personal relationships with words meant to inspire "good vibes" and "one love."
ADVERTISEMENT - CONTINUE READING BELOW
The sense of honest camaraderie can be felt throughout the album, especially in the track "This Gathering," while "A Mass for the End of time" pays tribute to the environment with great tempo transitions.
Rastafari and, yes, cannabis influence is evident in "Touch the Sky" and "Song for the Suspect." Layered guitar work and powerful drums are at play in "Memory Kill" and the dub experiment "Tetrahydrochloridedub" provides the much-awaited hypnotic breather from the list.
At first listen, old Incubus comes to mind, but on second spin you know they are distinct. There is great momentum throughout, even surprising hooks here and there, plus well-written lyrics that will make you listen.
Every track is indispensable, if not memorable. There has been much expectation from this band right from the beginning and the release of their debut disc only adds more to that promise. Franco is the good stuff—the kind you roll, light, smoke, and pass around.
ADVERTISEMENT - CONTINUE READING BELOW
TRACK LISTING.
Seasons
Touch the Sky
Castaway
Memory Kill
A Mass for the End of Time
Last waltz
Next Train Out
Song for the Suspect
Tetrahydrochloridedub
This Gathering
For My Dearly Departed
Franco's self-titled album is available in all major record bars nationwide and exclusively distributed by MCA Music.