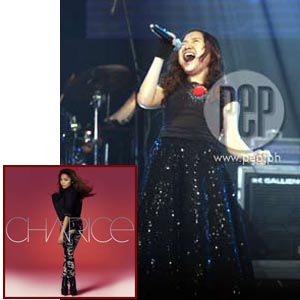 ---
At 18 years old, Charice has made Filipinos proud with her achievements in the international music scene. She is the first ever homegrown artist who also holds residence in the Philippines to ever take the United States by storm.


The young singer recently released her self-titled international debut album last May 11 on The Oprah Winfrey Show (her 4th visit to the Oprah stage in a span of two years). In this episode, she performed "Pyramid" with Iyaz & David Foster on the piano. David became emotional as he narrated how Charice gave her a letter asking him to be her Godfather.


Charice also gave her rendition of "In This Song," which she dedicated to Oprah. "Thank you for believing in me from the beginning and I love you." At the end of the show, Canadian pop singer Justin Bieber gave Charice a hug before both of them signed a pledge saying that they will not text while driving.


(CLICK HERE to watch her video)

On May 11, Charice performed on QVC later that evening. Together with 15-time Grammy award winning songwriter and producer David Foster, Charice performed on QVC Presents QSessions Live to unveil songs from her debut album. She also gave fans an exclusive inside look at the inspiration behind her music and career. This was the first time in QVC history that a new artist has been featured on the day of their debut release.
The Filipina singer also celebrated her 18th birthday a day before the album release last May 10, yet another reason for her fans to celebrate with her.
STRONG FOLLOWING. According to Warner Music Philippines, Charice's first single, the anthemic love song Pyramid featuring Iyaz is currently the No.1 song on 99.5 RT for 5 consecutive weeks. It was reportedly the No.1 song on RX 93.1 for three consecutive weeks. The video is now currently No.1 on Channel V's Bente Uno Chart and is also No.1 on the MYX international chart this week.


In the United States, Pyramid has already jumped to No. 1 on the Billboard Dance/Club Charts and her single is currently being played on over 100 radio stations across the U.S.
ADVERTISEMENT - CONTINUE READING BELOW
"Everyone at Reprise Records is passionate in their commitment to the success of Charice and the early indications have already told us that we have a tremendous star with an extraordinary future," commented Reprise Records president Diarmuid Quinn. "We are especially excited about the exposure she will have on day of release with appearances on Oprah and her special live concert for QVC. Charice has recorded a brilliant record and is a thrilling performer. David Foster has once again brought us an artist that we fully expect will continue his amazing track record for discovering unique talent like Josh Groban and Michael Bublé."
Charice who has already racked up more than 13 million views on YouTube began her singing career at age four when her mother discovered her singing on a table and went on to perform in several singing contests in Southeast Asia. She first appeared in the U.S. on The Ellen de Generes Show and then came to the attention of "Hit Man" David Foster who signed her to his 143/Reprise Records. In 2009, Charice revisited The Oprah Winfrey Show to perform the Diane Warren written and David Foster produced "Note to God." In the weeks that followed, the Foster-produced track sold 110,000 total downloads.

Given all these achievements, the New York Post cited Charice as a "newly crowned pop princess." She was described as "a new little chick...who's mountain-and-valley vocals (that means range kids) are the only reason you will need to fall in love with her sound."

Celebrate with Charice by grabbing a copy of her debut album under Warner Music Philippines and experience 13 fresh and hot new tracks from this young Filipina star.

Watch Charice live on May 23, 2010 at The Glorietta 4 Park as she officially launches her first self-titled international debut album here in the Philippines!
ADVERTISEMENT - CONTINUE READING BELOW