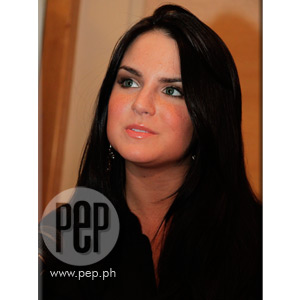 ---
JoJo returns to the country for the second time this year to headline the biggest gathering of international performers in the Then and Now Massive Music Festival 2010 to be held at the SM Mall of Asia Concert Grounds tonight, May 15.
JoJo is excited to perform because she will be doing a full show complete with her band from Massachusetts. Concertgoers will also be treated to new songs from her upcoming album. She finished recording her third album and will be releasing it at the end of the year.
"It just feels like the right time, you know. I've been writing and recording and finding the direction of the sound that I want to go in, and I'm just so, so excited," she excitedly said.
JoJo debuted her first album at the age of 15. That self-titled album churned out some big hits that include "Leave (Get Out)" and "Baby It's You," "Not That Kinda Girl" and her rendition of "Weak" by SWV.
The all-girl group SWV is also one of the performers at the music festival tonight. The group is composed of the trio, namely Cheryl "Coko" Gamble-Clemons, Leanne "Lelee" Lyons, and Tamara "Taj" Johnson-George.
The group's biggest hit that catapulted them to fame is the song "Weak." Their debut single "Right Here" would later be remixed with a sample from Michael Jackson's "Human Nature" and reached the number 1 at the R&B charts. Their other hits include "Rain," "I'm So Into You" and "You're the One."
The girls of SWV parted ways in 1997 and later re-united in 2005 to begin work on an album. This is their second time in the country and they are still overwhelmed by the beautiful sight of Manila. They are looking forward to having a great show tomorrow night.
ADVERTISEMENT - CONTINUE READING BELOW
Also joining the JoJo and SWV are Frankie J, PM Dawn, Diana King, Baby Bash, TQ, All-4-One, and the hottest boy, V-Factory.
The Then And Now Massive Music Festival 2010 starts at 8:00 p.m. You can still get tickets at TicketNet and Ticketworld outlets. For more information about the concert, you can visit their website, visit http://ThenAndNowConcert.com.