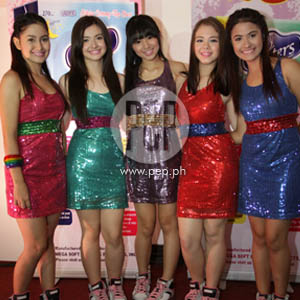 ---

Viva Entertainment's all-girl group the PopGirls hopes to assume flagship role in promoting the so-called P-Pop genre on local airwaves.
P-Pop (Pinoy Pop) is an obvious response to Korea's K-Pop and Japan's J-Pop music, which surprisingly proved to be commercially viable here in the country as proven by good album sales particularly of some Korean singing groups.
The success of Korea's Super Junior Manila concert last April 10 at the Araneta Coliseum in Quezon City only stressed the considerable local fan base of these foreign acts.
The PopGirls—composed of teenagers Schai, Nadine, Rose, Lai and Mar—are self-confessed fans of their Korean counterparts although they are also determined to push their own brand and style of music to the listening public.
In a press conference held last May 21 at City Best restaurant on Tomas Morato in Quezon City, the newest endorsers of Sisters Feminine Napkins had the chance to answer questions from the entertainment reporters.
ADVERTISEMENT - CONTINUE READING BELOW
"Fresh, young and energetic," was how Schai described both their image and music.
Lai wittingly added when asked to differentiate their music from the foreign ones: "The same lang naman po, ang difference lang kami Tagalog, sila Korean."
The group's music talks about common youthful themes like puppy love, shopping, dancing and having fun-all themes found on the group's 13-track album released by Viva Records.
Viva big boss Vic del Rosario reportedly sought the services of international producers Christian de Walden and Marcus Davis to supervise the recording with the intention of lending the record much needed sheen to make it internationally appealing.
Noteworthy singles in the album include "Crazy, Crazy," "Are You Ready?" "My Love," "About You Boy," and "Crushy, Crushy."
To further promote their music and the album, the PopGirls will visit different locations in and outside Metro Manila. They will also join Sisters Feminine Napkins in going around the provinces to recognize Filipino young achievers.
ADVERTISEMENT - CONTINUE READING BELOW