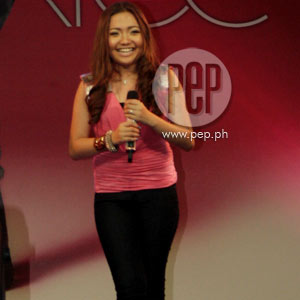 ---
"What's up Chasters!"
That was how international singing sensation Charice Pempenco greeted her screaming fans at her album launch held last Sunday, May 23, at the Glorietta 4 Park in Makati. Charice Pempenco, who is known to the world by the name Charice, launched her self-titled international album produced by Warner Records in front of almost 400 fans and spectators that day. (CLICK HERE to watch Charice's video right after the album launch)
Charice came out on stage looking very stylish with a pink sleeveless top and slim denims that she finished off with a light blue strapped up stilettos. Charice turned 18 last May 10, veering away from her "tween" image and embracing the realization that she is one of the Philippines' worldly acclaimed talents.
Charice performed seven songs from the album, starting the event with the upbeat "I Love You" which she was accompanied by all-female dancers. The singing sensation told her fans that "words are not enough to say thank you" as she introduced her second song "Thank You."
ADVERTISEMENT - CONTINUE READING BELOW
Her third production number was a medley of Lady Gaga's "Just Dance," Miley Cyrus' "Party in the USA" and her own version of "Rock With You," wherein Charice showed her dance moves. Chasters, the monicker that Charice's fans use to refer to themselves, were seen dancing along with their idol.
The fourth song, titled "Reset," was one of Charice's anticipated songs for the night. "Reset" was co-written by Charice since she provided the Tagalog lyrics in the song. Her camp neither confirmed nor denied the rumor that this song would be the next single from her album.
In the middle part of the song "Reset," Charice sings the Tagalog lyrics that go:
"Hey hey! Pakinggan mo naman ako (please listen to me)
Hey hey! I think this is the way na dapat gawin (the way it should be done)
Reset! Sana naman ika'y sang-ayon din (I hope you also agree)
To all the things that I'm gonna say
I wish ika'y pumayag din (hope you will agree)
Mag-aagree ka ba? (will you agree?)....
ADVERTISEMENT - CONTINUE READING BELOW
Truly, it's her own way of promoting her Filipino heritage.
"Reset" was followed by "I Did It for You," wherein Charice asked a fan to go up onstage and accompany her.


"All That I Need to Survive" was the young diva's sixth song, and she mentioned that the song is her Mother Raquel's personal favorite among all the tracks in her album.
Charice's 7th song that night was titled "In This Song," which the young singer says is the "story of [her] life." This was the same piece that she performed in The Oprah Winfrey Show with David Foster on the piano. The song has lines that go: "So, just sing this song and it takes me right back where I belong. And everyday there's a new bridge to cross, but I'm never far from home." Charice sang so wholeheartedly that we felt moved by her performance.
ADVERTISEMENT - CONTINUE READING BELOW
The event would have not been complete without a live performance of the song "Pyramid," Charice's duet with international singer Iyaz and the first single from her self-titled album. Fans sang along and did the "Pyramid hand sign" all throughout the song, which has already peaked to No. 1 in U.S. Billboard Dance Chart and No. 56 in the U.S. Billboard Singles chart.
The mini concert was followed by a short press conference where Charice expressed her joy to be back in the Philippines and to perform for her Filipino fans. "Ang sarap ng feeling," she said with a big smile. Charice also acknowledged that she has a big responsibility to play now that she was crowned as a new "Pop Princess" by the New York Post. Lady Gaga, Gin Wigmore and Matisse were the other pop singers cited by the said publication in its website. "For me, napakalaking responsibilidad kasi unang-una, I'm Asian. To be crowned as a pop princess, napakalaking responsibility kasi ang dami-daming foreigners na pop artists talaga at ako pa ang napili. Sobrang proud talaga."
ADVERTISEMENT - CONTINUE READING BELOW
Charice also invited everyone to watch her in a David Foster and Friends concert in Manila this October. She also mentioned that she will have a grand project soon but she refused to reveal details about it.
After her gig in Manila, Charice will be flying to Japan for three days to complete her work on her Japanese album, which will be released by Warner Music Japan. Charice is then scheduled to go back to New York City to conduct a series of radio tours.
Even though she is already one of the busiest and most popular young ladies in the worldwide music scene, Charice continues to amaze everyone with her vocal prowess and her humility. When asked how she manages to remain grounded all this time, Charice gave credit to her Mommy Raquel by saying, "Siyempre po dahil sa parent ko. She's a single mom...I'm 18 now and my brother [Carl] is 15 now and imagine napalaki niya kami na siya lang mag-isa."


The album Charice is now available in record bars under Warner Music.
ADVERTISEMENT - CONTINUE READING BELOW