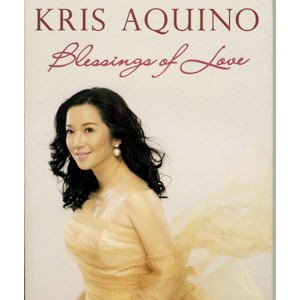 ---
"Thank you CD buyer. I haven't sung a single note, but you've supported my CDs and have given me 4 straight Platinum Albums in 3 years. Help spread the word and make this my 5th platinum, okay?"
Thus started talk show host and actress Kris Aquino's personal thank you list found on the liner notes of her latest album released by Universal Records titled Blessings of Love.
For those who remain doubtful about Kris's bankability, her four previous albums were all indeed certified sellers based on sales figures despite her not having to croon or belt out tunes one after the other.
Blessings of Love follows the same route.
Shaped perhaps by the death followed by the overwhelming love accorded to her mother by the public and the impending proclamation of her brother Noynoy as the country's 15th president, the album carries more personal theme songs bordering on love, lost, hope and nostalgia.
Martin Nievera leads the lineup of songs with his own written material titled "Impossible Dreams"—an obvious nod but not to be confused to the classic poignant tune "The Impossible Dream," which is one of the tunes associated to Ninoy Aquino's struggles during the Marcos regime.
"Thank you for giving me such a beautiful song that paid so much tribute to the legacy of my parents," Kris wrote to the Concert King. "Thank you for acknowledging how much Mom's life changed the political outlook of your own family."
NOTEWORTHY SINGERS. Aside from Martin Nievera, other big names who lent their time and talent to the project were Gary Valenciano ("Love Is The Answer"), Jed Madela ("To Where You Are"), Nina ("You Are Not Alone"), Jay R ("Dance With My Father"), Gail Blanco ("Kung Tayo'y Magkakalayo"), Erik Santos ("Iingatan Ka"), Ogie Alcasid ("Ikaw"), Noel Cabangon and Aia de Leon ("Kanlungan") and Ronnie Liang ("Walang Iba").
ADVERTISEMENT - CONTINUE READING BELOW
Christian Bautista's cover of Jose Mari Chan's "I Have Fallen In Love (With The Same Woman Three Times)" undoubtedly is one of the disc's highlights. The mentioned track is close to Kris's heart since the lyrics of the song were based on a poem written by Ninoy to Cory.
The theme song of Noynoy's campaign "Hindi Ka Nag-iisa" composed by Ogie Alcasid and interpreted by Regine Velasquez was also included in the album.
"You told me 'Hindi Ka Nag-iisa' the song was an answered prayer that you wrote in just a couple of hours. You literally had a dream and it became our battle cry. Thank you for the gift of music when our hearts were still bleeding from such a profound loss," reads Kris's message to Ogie.
Blessings of Love once again reveals an intimate part of Kris through music that inspires and touches the heart of every listener.
"I believe there's always a reason to feel blessed, to feel grateful," said the TV personality in her message sent out to fans. "I thank God for giving me this life that I wholeheartedly share with all of you."
Kris Aquino's Blessings of Love is now available in all record bars.
TRACK LIST.
Impossible Dreams
Love Is The Answer
To Where You Are
You Are Not Alone
I Have Fallen In Love (With The Same Woman Three Times)
Dance With My Father
Kung Tayo'y Magkakalayo
Iingatan Ka
Ikaw
Kanlungan
Walang Iba
Hindi Ka Nag-iisa