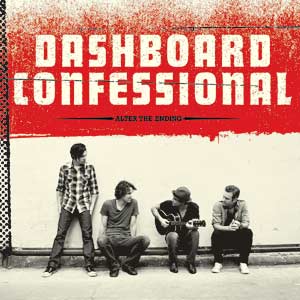 ---
Alternative rock band Dashboard Confessional got intimate with their Filipino fans yesterday, May 26, at the meet-and-greet session at the Glorietta Activity Center in Makati City. The American band is behind the songs "Belle of the Boulevard" and "Vindicated," which was included in the soundtrack of the movie Spider-Man 2.
The four-member American band—composed of lead vocalist Chris Carrabba, lead guitarist John Lefler, bass guitarist Scott Shoenbeck, and drummer Mike Marsh—looked cozy while answering questions from hundreds of fans who came to see them. They even answered personal questions about their music, inspirations, their first visit to the country, and other matters.
The questions were written on slips of paper by the fans before the question-and-answer portion even started.
One question, for instance, asked the band members about the tattoos in their body.
Lead vocalist Chris Carrabba, whose heavily-tattooed on his arms said his favorite tattoo is his "worst tattoo." He said it was made by a friend, and that he can't reveal where it is located.
"Go to the concert and I will show you," he told the screaming fans.
Lead guitarist John Lefler said he is the only member who does not have tattoos. "I just don't have them," he said.
Another fan asked the band about how they decide the names of their albums. The fan asked why only one of their six albums—specifically, A Mark, a Mission, a Brand, a Scar in 2003—does not have a corresponding song with the same title in the album.
Carrabba answered with an aw-schucks gesture. "I don't know," he said, stroking his chin. "Sorry we're only human."
Dashboard Confessional then signed albums and took pictures with their fans after answering questions.


The latest album of Dashboard Confessional, Alter the Ending, is available in a special Limited International Edition that includes five acoustic tracks plus a bonus acoustic video. Copies are now available at Odyssey, Astrovision and Music One stores.
ADVERTISEMENT - CONTINUE READING BELOW

In a previous interview, lead singer Chris talked about their album, Alter The Ending, by saying, "It's not a concept record in that if you listen to the songs in order you'll know the story. It was a struggle to find an order that didn't tell the wrong story. So I would sequence them. I didn't know what feeling I was looking for. I didn't know what I wanted to feel, having heard the whole record in sequence. I just knew I wasn't getting that feeling. And at some point you have to trust your gut, you know. So I must have sequenced it every way that you could possibly do it, only knowing what the first and last songs were going to be.

"So I knew that I knew the story, had a beginning and a last chapter and somewhere in the middle was the meat of it. And if told out of order, it would become the wrong ending. So somehow I managed to find what I hope is the right order. I get the feeling even now when I listen to it over again that it's right. I know what I'm supposed to feel."
The band is in the Philippines for their concert today, May 27, 8 p.m., at the TriNoma Mindanao Open Parking lot in Quezon City. For tickets, call TicketWorld at 891-9999.