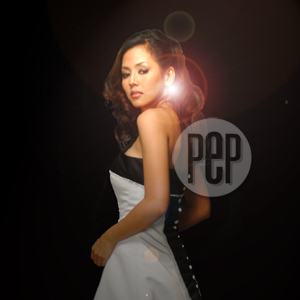 ---
Inspiredby the Filipino's passion for teleseryes, songstress Arnee Hidalgo hasreinvented herself via the new music video of her first original single inFilipino, "Kahit Minsan Lang." Written by Mr. Gino Torres, this song deliversall the romance, heartbreak, and good old-fashioned catfights of a TV soap inunder five minutes. Directed by Paul Soriano and co-starring James Blanco andAiza Marquez, "Kahit Minsan Lang" makes its high-tech debut on popular websitesYouTube and MySpace this month.
Betterknown as the country's R&B siren when she dished out her hits, "Cold SummerNights" and "True," Arnee shows her versatility with this new single, which isabsolutely a new sound for her. Arnee's top priorities are still her twochildren and her family. However, she has added another feather in her cap. Sheis back in school at Southville International School taking up BS BusinessAdministration major in Finance and is currently the topnotcher, a trait shehas in common with her elder brother, Jeffrey Hidalgo.
Arneeshares, "While I haven't been as visible as my fans want me to be due to myfamily and school obligations, I am even more committed to the time I'm givento share my music and talents. "Kahit Minsan Lang" is me delivering on thatcontinued commitment."
Hercurrent single has also enjoyed heavy rotation on radio stations like LoveRadio, YesFM and WRR. In addition, the music video has just started airing onMYX and soon on other music channels.
ADVERTISEMENT - CONTINUE READING BELOW
DirekPaul comments, "Arnee is a multi-faceted entertainer. Fans and soon-to-be fanswill really see that in "Kahit Minsan Lang." She's a singer and also definitelyan actress."
Producer/artistJeffrey adds, "The word of mouth and exposure on YouTube and MySpace has beenamazing! We decided to premiere Arnee's new music video where fans can find itand view it easily when they want. We are also relying on word of mouthpromotion to spread the word about this one of a kind music video, which mainlycaters to the Filipino's love for soap operas. That is why we call this a musicvideo-serye."
Twoversions of "Kahit Minsan Lang" will be available, the original music video anda sing-a-long version for videoke fans.
Jeffreyreveals that "due to popular request," they will also be adding some of Arnee'spast music videos online and some rare live performances including "Cold SummerNights," "True," and "Araw, Gabi."
ArneeHidalgo 's "Kahit Minsan Lang" music video-serye can be viewed online atYouTube and MySpace .