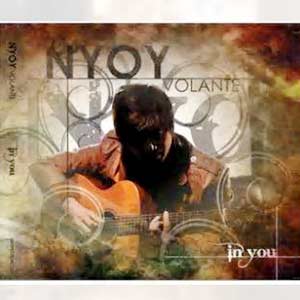 ---
After making a name in the industry and being one of the driving forces in making "acoustic" a household name, Nyoy Volante has remained one of the finest acoustic acts in town. He is now back in the recording scene with the release of his all-original album under his new home, MCA Music Inc.

Nyoy is not only an artist for revivals, he makes his own compositions and melodies. He brings a refreshing change to OPM by breaking into the sea of covers and by coming out with an offering infusing his signature acoustic style with an engaging fresh sound.

The new album titled In You—his first under MCA Music—is loaded with originals as well as his own compositions.

In You features original tracks such as his carrier single "Someday," which happens to be Nyoy's own composition, as well as other tracks "In You," "Try" and "Tuloy Tuloy. Nyoy also performs live with his 4-piece rhythm section called the Rhythmic Circle.
In You is available in all major record bars nationwide and released exclusively under MCA Music.


TRACK LISTING.

1. Try
2. Time Machine
3. Someday
4. In You
5. So Hard to Let Go
6. Forever
7. Dude
8. Walang Hanggan
9. Tuloy Tuloy Pa Rin
10. One Look