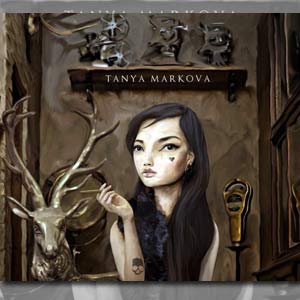 ---
Tanya Markova is a walking contradiction. A band whose irreverent humor easily brings to mind Pinoy rock acts of the '90s and whose fondness for wearing make-up along with costumes bring back images of Alice Cooper, Bob Dylan circa 1975, Marilyn Manson and Kiss.
But all the comparisons end there. What's interesting about the up-and-coming band is that you'll be lured to think that you got them all figured out only to reconsider at the last minute after digesting the music.
BACKGROUND. Tanya Markova is composed of Norma Love (Harlon Agsaoay), Iwa Motors (Gel del Pilar), Mowmow (Pipoy Alejandro), Heart Abunda (Jasper Borbajo), Rufa Mae Milby (Edu Broce), Rez Curtis (Rhan Sabas), Skrovak Iskopano (Kix Chavez), and Jennylyn Sucaldito (Kid Guevarra).
It was in late 2004 when Agsaoay and del Pilar came across the idea of combining Brian Wilson-like melodies with dark and caricature-driven lyrics. 2006 marked the completion of the band's lineup although they would suffer an emotional blow with the passing of JB Borbajo (Sugar K), who eventually was replaced by Jasper.
The band gradually developed a growing fan base as a result of constant gigs and word of mouth courtesy of those who witnessed their live shows.
SHOCK ROCK. The band calls their brand of music as "shock rock," which is quite an understatement given the group's impressive ability to mesh various genres with obvious ease and precision. Even more impressive is their knack for concocting catchy pop melodies weaved with dark nonsensical lyrics that are entertaining nonetheless.
ADVERTISEMENT - CONTINUE READING BELOW
"Teacher, teacher ako si Linda Blair / and the ghosts are everywhere / I can feel it in the air..." says the chorus of the song "Linda Blair."
"MIM" on the other hand resorts to witty wordplay to make fun of the dreaded mananggal: "Alma Concepcion slow motion pahid lotion na may potion / Alma Concepcion evolution transformation with emotion..."
Radio listeners and music video channel enthusiasts by now are familiar with the words "...Lagot ka na ang kamera may mahika / ano ang lohika kung ba't nahilo ka / mekaniko si Moniko ng makina ni Monica..." lifted from the single "Picture Picture"
It was a tricky route to take musically and artistically but it worked perfectly for the boys of Tanya Markova.
The band's self-titled debut album is under MCA Music Philippines with Jonathan Ong and former The Youth bassist Robert Javier sharing record producer credits.
"Sinadya namin talaga na iba iba 'yong genre kasi gusto namin makuha 'yong buong side ng audience," said del Pilar during the press launching held recently at Capones in Makati City.
"May mood swings kasi 'yong album," added Guevarra. "Depende rin sa mood ng tao kung ano 'yong gusto niyang pakinggan. So 'yon yung gusto naming iparating na hindi lang nagsi-stick sa isang formula."
Although the band's humor both onstage and record is an added attraction, Tanya Markova's unique music speaks loudly of innovation, promise and freshness—three key ingredients somewhat missing in today's mainstream local rock scene.
TRACK LISTING.
Radio Inferno Intro
MIM
Disney
Picture Picture
Mag-Exorcise Tayo
Linda Blair
Psst
Hoy! Bampira Ako (Takot Ka Na?)
Bye Bye Mosquito
Sentimental Value
Jacuzzi
Reunion of Soul
Curfew
P.A. Roadie Fernandez
Nay Sama Ko
(a)Ninong
Disney Reprise
Psst Psst
Riot sa LRT
Radio Inferno Sign Off