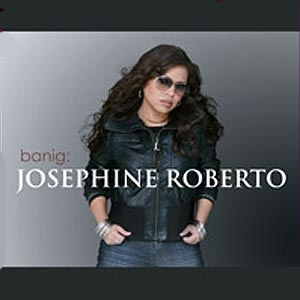 ---
As a young child, Josephine Roberto impressed audiences with her vocal prowess. Somehow, in the many years of her music life, the stage name Banig got stuck.


Now that she is all grown up, the former child wonder is finally ready to drop her childhood stage name and go back to the basics. The young lady is now known as Josephine Roberto but she is still the same talented performer who started out at age 8 belting Shirley Bassey songs in Ang Bagong Kampeon's Bulilit Portion. She became known as a powerhouse concert artist when she reached 9 years old. She gained international acclaim when she won the International Star Search at the tender age of 10 and was able to beat Christina Aguilera in the said competition.


She no longer became a household name in the local Philippine showbiz scene but was considered a true pride of her country. Her impressive performance on the The Arsenio Hall Show followed numerous shows in the U.S. and contracts with huge companies that moved her career to a different level.
Since then, headlining concerts and recording CDs became the focus of her career. Writing her own material became a craft that would change the teeny-bopper girl to a highly gifted songwriter/producer. In addition, she also oversees her own record label and her music production/marketing firm that eventually ensures her genuine longevity in the music industry. Banig released "Can You Feel My Heat" under Del-Fi Records and "Silent Whispers," under her label, Double Play Entertainment. Her first two singles, "Boogie On The Dancefloor" and "Walk" were played in several radio stations and dance clubs all over the U.S. Both singles also received chart action in various radio stations, record pools and dance club charts and music industry trade publications.
ADVERTISEMENT - CONTINUE READING BELOW
Her long-awaited album compiles a 14-track list of original compositions, both in Tagalog and in English, written by Josephine Roberto herself along with musical partner, and younger sister, Jhoanna Roberto. Also growing up in the music business, Jhoanna "Jojo" Roberto is familiar with the art of songwriting and music production. She has worked with several new artists as a producer, a re-mixer, a rapper and a choreographer.


With the combination of talents of these two gifted artists, the CD Josephine Roberto will reach people who have long waited for their little Banig to come out with a new project that will cater to all her kababayans. Only this time around, the CD re-visits what the Filipino audience remembers her for...her talent as a vocalist, and now, her skills as a songwriter and producer.
It has been decades since Filipinos last saw a glimpse of Banig in the Philippine entertainment scene. Even though she had just a short lived music career in the Philippines, somehow Banig remained an idol for many young aspiring artists back in her days.


With this album, it is hoped that Josephine Roberto is embraced by her people with a warm welcome. It is a real treat that a Tagalog CD will finally be released for her fans in her native land.
The 14-track album Josephine Roberto is now available on iTunes and through her official website www.banigonline.com.