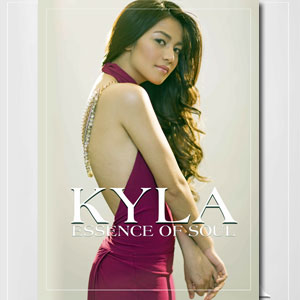 ---
Eight platinum albums along with numerous hits earn R&B Princess Kyla the right to release an anthology album of her own.
Essence of Soul gathers the 28-year-old singer's well-loved singles in a two-disc collection produced and distributed by PolyEast Records.
Tracks included in the record are "Hanggang Ngayon," "Nasaan Ka Na," "Back In Time," "Beautiful Days," "I Feel For You," "Not Your Ordinary Girl," along with renditions of "Because Of You," "Old Friend," "One Day In Your Life," "I'll Be Over You," "If The Feeling Is Gone," "It's Over Now," "Love Will Lead You Back," and "Human Nature," among others.
Kyla has released eight records all in all: Way To Your Heart (2001), Kyla (2002), I Will Be There (2003), Not Your Ordinary Girl (2004), Let The Love Begin (2005), Beautiful Days (2006), Heartfelt (2007), and Heart 2 Heart (2008).
Incidentally, the release of Essence of Soul coincides with Kyla's tenth anniversary in the entertainment business.
"What this retrospective album shows is that over the last 10 years, she has used her warm voice with subtlety and to excellent effect. Kyla has always created music for the people. Great melodies, simple lyrics and groovy sounds are all part of what makes Kyla still a star. This album is a record to listen to and a record of our times and for this generation—that in our midst, Kyla became one of the few who made it for a decade and more decades to come," PolyEast Records said in a statement.
The album also features a new song titled, "Hanggang Wakas." Kyla recorded the tune together with Malaysian pop-R&B artist Hazami. Arnie Mendaros translated the song (titled "Tekad" in Bahasa) in Filipino.
ADVERTISEMENT - CONTINUE READING BELOW
Essence of Soul will serve as a pleasant prelude to Kyla's upcoming all-original album scheduled to be launched late this year.
Kyla will embark on a mall tour to promote Essence of Soul: August 1 at Robinsons Galleria Activity Area; August 6 at Robinsons Sta. Rosa Market Fountain Area; August 8 at Robinsons Place Dasmarinas Activity Area; August 15 Nova Market Activity Area; August 22 Robinsons Starmills Pampanga; and August 29 at Robinsons Metro East Activity Area.
Kyla's Essence of Soul is now available at record bars nationwide.