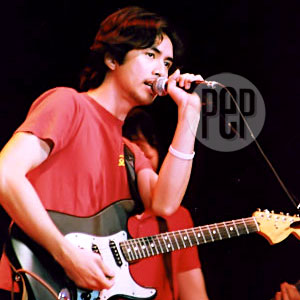 ---
After weeks of talks and speculation, a reliable source confirmed to PEP (Philippine Entertainment Portal) through e-mail that Rico Blanco, the vocalist and lead guitarist of Rivermaya, had left the prolific '90s band.
The source, who is very close to the group, declined to further elaborate on the real reason behind Rico's departure. The group is currently in shock. "But that's all I am ready to say at the moment. We are still reeling from the shocks," said the source.
FINAL ACT. The hush got louder during the band's reported final gig last May 4 at the Metro Bar, with Sandwich and Pupil.
In a message posted by The Dawn's drummer, JB Leonor, in their web mailing list, he said that guitarist Francis Reyes got a text message early in the morning of May 4, saying that Rivermaya is breaking up and will be having their last show later that evening.
Francis went to Metro Bar that night and texted JB after a couple of hours with words: "Confirmed! It's Rivermaya's last gig!!! They're breaking up!"
SIGNS OF GOODBYE. According to those who were present during the show, a nostalgic Rico said that the gig was memorable because it was held in the same place where an inexperienced Rivermaya played its first- ever gig as an opening act for the legendary Eraserheads. (Metro Bar was known as Kampo during the '90s.)
Spectators also noted Rico's happiness that night as he shared the bill once more with former E-heads members—Ely Buendia (now with Pupil) and Raimund Marasigan (now part of Sandwich).
ADVERTISEMENT - CONTINUE READING BELOW
An intense Rico, in the middle of performing "Umaaraw, Umuulan" reportedly shouted, "Isang huling malupit!" Rivermaya's bassist Japs Sergio then seconded by telling the crowd, "Lakasan n'yo pa, huli na 'to!"
However, after that fateful night, no official statement was issued by the management or by any of the band members validating the split until only recently.
THE AFTERMATH. At the heels of Rico's departure is another rumor telling that the talented singer-songwriter will pursue a solo career and will be known simply as Blanco.
Prior to Rico's decision to leave the band, Rivermaya has been doing very well in Southeast Asia, particularly in Indonesia and Singapore.
As of the moment, there's still no confirmation on whether Rivermaya would carry on without Rico or just disband. There are unconfirmed reports claiming that remaining members—Mike Elgar (guitars), Japs Sergio (bass), and Mark Escueta (drums)—would be launching a reality-TV search to find a suitable replacement. The same move was done by Australian rock band INXS in finding its new frontman after original lead singer, Michael Hutchence, was found dead in 1997.
However, some local music experts express doubt regarding Rivermaya's future, citing the fact that Blanco was the main creative force that kept the entire band running even after some of its original members left.
"Rivermaya survived the departure of Perf de Castro, Bamboo Mañalac, and Nathan Azarcon simply because they're not the chief songwriter," said one music journalist.
"Rico was the most important component of that band because he supplied the hits. It was the same when Ely (Buendia) left the Eraserheads. Much as the other members wanted to continue, they just found it hard to fill in that huge void," he added.
ADVERTISEMENT - CONTINUE READING BELOW
Blanco authored most of Rivermaya's well-loved hits such as "214," "Bring Me Down," "Awit ng Kabataan," "Elesi," "Kisapmata," "Balisong," and "241," among many others.