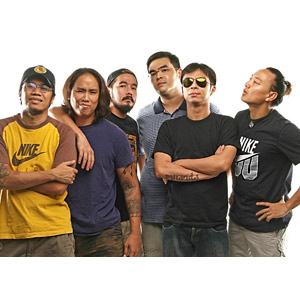 ---
"I love MYX," screams Parokya ni Edgar as they once again become involved with MYX music channel. This time, it's not their phenomenal hits that will astound everyone--it's their well-loved humor as they serve as MYX Celebrity VJs this October.


Catch Parokya ni Edgar as they grant viewers' requests on My MYX from October 17 to 23. After staying for 17 years in the Pinoy rock sphere, Parokya ni Edgar reminisces the music videos of the "good ol' days" on MYX Backtrax on October 24 to 31.


Meanwhile, MYX also features this month today's most-celebrated international rock and acoustic sensations in MYX Presents. YouTube acoustic sensation Marie Digby enthralls music enthusiasts with her tracks of the "heart" on October 21. Bringing back the hardcore rock cravings is Linkin Park on October 28.


MYX will also feature live performances of artists on MYX Live. Rockers Sponge Cola and Nikki Gil sing out loud on October 20 and 27, respectively.


Also premiering by the end of the month is MYXPOSED: 10th Anniversary Documentaries, a four-part chronicle of MYX's colorful story. Learn about the history of MYX, as told by the people behind it, the artists, the viewers, the fans, and so much more. Witness the struggles of the people behind MYX as they experienced ups and downs while creating a channel for music lovers in the Philippines.