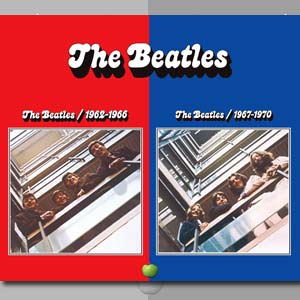 ---
One of the country's top retro bands, The Bloomfields, will celebrate the release of the remastered versions of The Beatles 1962-1966 (The Red Album) and The Beatles 1967-1970 (The Blue Album) by performing at the Rockwell Mall on October 17 and on October 20 at Robinsons Place Manila.
The special rock n' roll event is expected to drum up PolyEast Records' early Yuletide treat to fans, who now have the chance to purchase the two-double disc sets at a special introductory price of P595 each.
The promo will run from October 18 until December 31, 2010, after which both albums will return to its regular price of 1,190 each.
Originally launched in 1970 following the band's bitter breakup, The Beatles 1962-1966 and The Beatles 1967-1970 gathered most of the group's memorable singles as created and recorded by The Fab Four covering two stages of their colorful career.
The Beatles 1962-1966, also known as The Red Album, collects the hits as heard during the height of Beatlemania. Staple pop-rock classics like "I Want to Hold Your Hand," "All My Loving," "Drive My Car," "Help!" "Yesterday," "Michelle," "Girl," "Yellow Submarine," and "Eleanor Rigby," among others, all stacked up the collection.
John Lennon, Paul McCartney, George Harrison, and Ringo Starr's evolution from talented pop stars to certified pop culture icons define The Beatles 1967-1970, or more known as The Blue Album, discs. Complex yet still lovable songs like "Strawberry Fields Forever," "Lucy In the Sky With Diamonds," "Across the Universe," "Penny Lane," "Let It Be," "Hey Jude," "Something," and "Here Comes the Sun," to name only a few, made it to the package.
Both albums are available at Odyssey Music and Video stores nationwide and at O Music Greenbelt and Rockwell.