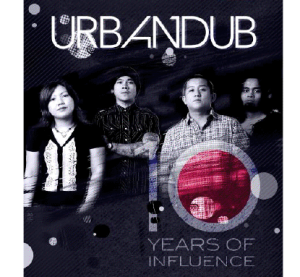 ---
After offering unconventional shows in celebration of their decade of existence, the most momentous show that Urbandub will ever perform is here.

Urbandub: Ten Years Of Influence, the major concert, will take place in the grand halls of Music Museum, Greenhills Promenade, San Juan City. The curtains will drop at exactly 9:00 pm this Friday, October 22.

Known as the Sound of The Giant South, Urbandub has earned a reputation for providing energetic shows and excellent vocals.

The group, which started out as an indie band in 2000, has already released five albums. These are Birth (2001), Influence (2003), Embrace (2005), Under Southern Lights (2007) and The Apparition (2009).


Be there when the quartet hailing from the south island of Cebu marks a milestone in their colorful career. Urbandub is composed of Gabby Alipe (lead vocals, guitar), John Dinopol (lead guitar, vocals) and Lalay Lim (bass, vocals).

Urbandub's latest album The Apparition is available in major record bars nationwide and is exclusively released under MCA Music.