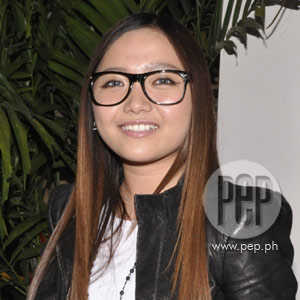 ---
Charice (a.k.a. Sunshine Corazon) is back!

The Glee star arrived with her mentor, David Foster, and American singer-songwriter Natalie Cole yesterday afternoon, October 21.


Their group had just come from Japan where they performed a two-night concert at the Tokyo International Forum.

While in Japan, Charice received a Gold Record award for her self-titled album. This international album from Warner Music contains the single "Pyramid."

During a press conference held on October 21 at Resorts World Manila, Charice told the Philippine press: "Dream come true [receiving the award in Japan]. Sobrang achievement 'yon for me. Isa sa mga pinakamahirap abutin. Parang second dun sa U.S. Makakuha lang ng Gold, super big deal na sa akin."

Charice is slated to perform this Saturday, October 23, at the Araneta Coliseum for an upcoming concert titled David Foster and Friends.

The other performers will be 9-time Grammy winner Natalie Cole, American Idol Season 2 winner Ruben Studdard and The Canadian Tenors (composed of Clifton Murray, Fraser Walters, Remigio Pereira and Victor Micallef).

After this concert in Manila, they will perform in Thailand, Indonesia and Singapore.
Is David surprised by the global success of Charice?

"I'm gonna give you an answer that may surprise you but honestly, I'm not surprised. Because I know that I'm good at what I do and I'm good at finding great singers and Charice is a great singer. She's had some good breaks.

"It was so obvious to me that she would be successful. I never doubted it for a second. That talent, that voice...it would be weird if it didn't work," declared David.

When asked what qualities she likes most about David, Charice faced her ninong and admitted, "I gotta tell you, the first time I met you, I was so scared. That was my first impression of you but then for three years, I believe you to be part of my family and I know that you're not gonna make me feel like you're a 15-time Grammy winner. You're a real person and I just want to thank you for believing in my talent."

David responded by saying, "This is my godchild right here."

When Charice was asked how she feels about her prospects in the upcoming Grammy Awards, David Foster asked Ruben Studdard of American Idol Season 2 to give his opinion.

Ruben says about the Filipina singer, "I honestly don't think the Grammys is the pivotal point of somebody's career. I think that Charice is a wonderful singer and I think that she'll be performing for years to come. I think that the lives she has touched is enough for her to bank on. She's my little sister and I think she's one of the best singers I've heard in my life."

During the presscon, David was given two awards by Warner Music Philippines.

Jim Baluyut, general manager of Warner Music Philippines, and Anne Poblador, marketing director of Warner Music Philippines, handed the awards to David during the press conference in Pasay City.

The first one was a Platinum Record award for David's album titled You're the Inspiration: The Music of David Foster and Friends. More than 25,000 copies of this album have been sold in the Philippines.

The second one was a Gold Record award for his album titled The Magic of David Foster and Friends. Over 7,500 copies of the album were sold in the country in the first two weeks since its release.
ADVERTISEMENT - CONTINUE READING BELOW

PERFORMANCE WITH NE-YO. Charice marked another milestone in her career when she performed for the first time with R&B singer Ne-Yo. Charice had the chance to sing "Earth Song" with Ne-Yo during the One and Only Hit-Man David Foster and Friends concert in Las Vegas last October 15.

The duet of Charice and Ne-Yo was their way of paying tribute to the King of Pop, Michael Jackson.

In her tweet published last October 17, the young singer said: "@NeYoCompound and thank you bro for everything. I'm really happy that I finally shared the stage with you. See you!"

During the concert in Mandalay Bay Events Center, Las Vegas, Charice also performed two of David Foster's compositions: "To Love You More" and "All By Myself." After singing her version of "All By Myself," the crowd gave her a standing ovation.