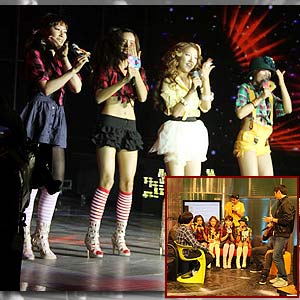 ---
Pointen had the chance to penetrate Philippine television on October 24, 2010. ASAP XV gave the K-pop group the chance to perform in front of a live audience and before the rest of the Philippines and TFC (The Filipino Channel) subscribers.
The K-Pop girls sang and danced their first single, "A Fairy Tale Song," which has already been getting a lot of airplay on radio stations. Their song proved to be catchy, and is on its way to becoming a hit.
The ladies also showcased their signature choreography, the "Bee-Bee Dance," which caught the attention of the live audience and viewers. While the moves looked easy enough to imitate, it also displayed the rigorous training they all underwent in order to put up a good show.
Not only did Pointen look like a solid unit performing together, they also looked graceful and charming with their bubbly facial expressions. Just a wink from Yuju, the leader of Pointen, was enough to drive the people crazy.
Their costumes—checkered long-sleeved tops of various colors with matching knee-high socks—are sure to invade the "in" list of the local fashion. Sharein seemed the most boyish with her green shirt and orange overalls. Vicc is the sexiest with her navel-baring red top and skimpy black skirt. Garyn, with her pink shirt and blue dress with tiny polka dots, looked the most innocent. Yuju's yellow shirt was perfectly matched with a white gauzy short skirt, and her thigh band was a cool accessory
The performance of Pointen in ASAP XV endeared them more to their fans, who have been actively campaigning for more public appearances for the group, and has been attending the mall and campus tours.
Expect more public appearances over the coming weeks. The group is currently on a nationwide tour of SM malls. The girls will be at SM Bacoor on October 30.
ADVERTISEMENT - CONTINUE READING BELOW
Pointen's debut album is Dance Floor Prima Donna, and it's out in record stores nationwide. The album was recorded in Korea, and is being distributed by Sony Music.