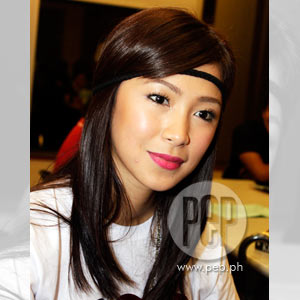 ---
Bianca Roque admitted being at a loss on what to do with her life before she became a MYX VJ.
In 2003, she was a fashion design student at De La Salle-College of St. Benilde. Even though she was just one year away from graduation, she wanted to shift course and transfer to another school.
"But along the way, I met a few people who were flying internationally as a flight attendant. So, I tried it out," said Bianca who stands at 5 feet and 6 and half inches.
Soon, she was flying around the world with Emirates for a year and a half as a stewardess before deciding to return home here in the country.
By 2008, she joined the MYX VJ Search without any background in hosting. And two years later, she's still enjoying being a video jock.
"I know. It's so fast. Bigla na lang. Time flies when you're having fun," said the 25-year old VJ with a big smile.
"Things are great. Being with MYX isn't like working at all. I think everyone here can attest to that because my job here is to go to concerts and to interview local and international artists. It's being around this amazing and creative people. Parang that doesn't feel like work for you.
"The only thing that you have to deal with here is stress and being starstruck. You have to handle that. But more than that, it's basically just having fun. Sometimes you forget already when to stop having fun and start working," she described her work of being a VJ.
ADVERTISEMENT - CONTINUE READING BELOW
BIGGEST INTERVIEW YET. Being a VJ allows her to interview some of the biggest names in the international scene. For Bianca, one of her biggest interview was with singer and songwriter John Legend.
She practically begged her producers for the interview to be assigned to her knowing that this was a chance to come close to one of her icons.
"On the phone, I was able to talk to Adam Lambert and the Jonas brothers. Only two of the brothers because Kevin wasn't there and he was preparing to get married.
"I'm a super big fan of him," Bianca admitted. "When I found out about the interview... Actually, when I found out he was coming, I begged talaga to assign me there. When I was there already, I thought, 'how am I gonna handle this.?' I might not be able to say anything because you know I'm gonna be so kabado. My biggest idol is gonna be there in front of me, and talking to me. I had 10 minutes to interview him."
The interview went well for Bianca.
"He was generous with his answers. You'd come across people or some artists who prefer to say just a few things rather than to talk and be really open about what they want to say and what their opinions are. John Legend wasn't that kind of person. He was really nice. Just the way I expected him to be," said VJ Bianca as she recalled the euphoria of interviewing the famous singer.
ADVERTISEMENT - CONTINUE READING BELOW
LOVE TEAM WITH CHINO? Bianca confesses that she has hosted every show on the music channel except for one, which is Rock Myx.
"Since I started out with MYX, I've been handling Wer U At. This is the magazine and lifestyle show. We feature fashion shows, activities, the restaurants. Anything that is hip around the metro, we feature.
She continued, "And then I have MYX News with Iya [Villania]. We have news about music. Then there's Pop Myx and Pinoy Myx. I also do Take 5 as well.
She has also written for the MYX magazine edition together with VJ Chino Lui-Pio. They write about the places they visited in the previous month.
"I'm not very good at deadlines," Bianca admitted. "Siya din [VJ Chino]. Pareho kaming nag-pa-panic kapag malapit na. But then it's easy because we already know what we are writing about. But it's different when you put things into writing. Sometimes, you don't know it might be boring. Unlike TV, we're very active when we speak."
Both Bianca and Chino also came to the music channel at the same time. They also work on shows at the same time. People can't help but notice the good chemistry of the young VJs.


This has led people to ask if they have become more than friends. But Bianca laughs off such rumors.
"We're really cool with each other. We're just good, good friends. During the search pa lang in 2008 kami na with the other contestants. Competition pa lang we were wanting to work na with each other. And then when we got in, they had to separate us because it was too much like a love team."
ADVERTISEMENT - CONTINUE READING BELOW
Bianca adds that she always feel nervous whenever they get evaluated by their producers.

"I don't think my MYX experience won't be the same without him. We grew here together. Parang we both had each other to talk to. Siyempre, you have to relate to someone. He was the only person I could relate to when I came in. And ngayon din, pareho kami yung nasa same age bracket. Pero walang love at all. My god!" she exclaimed.
Bianca credits their onscreen chemistry to a couple of factors.
"I think we both have the same sense of humor. We also kind of think alike. There are times when I look at him and he looks at me, I know we're gonna say something funny. We're gonna brace ourselves.
"But more than anything, I think it's because, working with him, I feel like he makes me be able to talk and have my moment. And that's also the same with me. I think that's the most important part when you're hosting. You can't make sapaw. I think that's what happens.
Bianca feels blessed to be working on a music channel.
"When you work with people that you love working with like the MYX staff, and you hear this from all the VJs, they're you're family. They're your biggest cheerleader and your biggest critic as well."
Bianca hopes to make her mark on MYX despite the influx of new VJs.
ADVERTISEMENT - CONTINUE READING BELOW
"I think I cannot promise you that I'll be like this person na mabait or funny or whatever, but what I can assure you is my commitment will be there when you need me.
"Kung anuman yung kailangan ko gawin, gagawin ko. Like when we do MYX Pinoy Countdown where we are just like kids. One day I'm dressed like a beggar talagang gusgusin. The next day, I'm like Jack and Jill with Chino and talking like a kid. Anything in plain fun, talagang ginagawa ko naman. And it's not hard to do it because para ka lang naglalaro.We just try to enjoy things. Try to make the most out of it. I think as long as you're having fun, the viewers will see that."