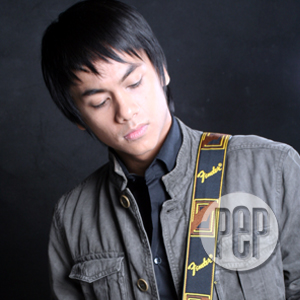 ---
Facing life's crossroads with that nagging feeling of uncertainty can either break one's spirit or inspire him to compose music.
Twenty-three-year-old singer-songwriter Miguel Escueta chose creativity.
"I believe everyone goes through that stage or phase where you're feeling tentative with a lot of things in life," Miguel openly confides when he met the press during the launching of his debut album, I AM M.E., released by MCA Music.
Miguel's foray into music wasn't entirely a matter of chance. He won first runner-up in Acoustic Break competition in 2003. His rendition of the Lennon/McCartney classic, "Let It Be," for the singing tilt's official compilation album earned him a nomination for Best New Male Recording Artist in the prestigious 2005 Awit Awards.
But school beckoned and Miguel temporarily halted his budding music career to finish his Business Management in Communications Technology degree at the Ateneo de Manila University. He graduated last year.
START-UP BAND. After college and faced with the dilemma of whether to join the corporate rat race or live his dream of becoming a serious musician, Miguel threw caution to the wind and followed his heart.
This time, the young singer-songwriter beefed up his overall sound by surrounding himself with the backup band of Junior Devacais (lead guitars), Jeng Tria (bass), and Francis Aquino (drums).
The full band sound, says Miguel, made his songs more dynamic and even added more emotions. "It complements everything... from the mood, arrangements... it's really interesting," he explained.
ADVERTISEMENT - CONTINUE READING BELOW
I AM M.E. Though Miguel's influences—Coldplay, Dashboard Confessional, James Morrison and Lifehouse, among many others—could be traced throughout the record, his songs remain fresh and original.
The 12-track, all-original album boasts easy listening pop/rock tunes laced with sincere and thoughtful lyrics.
When it comes to his lyrics, Miguel would rather leave the listener to interpret the meaning behind the songs.
"As much as possible I don't want to lay it all down in a way that is so plain and obvious. It is still much better to at least put some space wherein the listener could put his or her own interpretation in a way that a whole lot could relate to it."
Songs such as "Close to the Edge," "Take Me There," "Falling Away," and even the Tagalog tracks like "Isipin Mo," "Balik Simula" and "Sa Pagkawala," show the singer's depth and ability to relate easily with his listeners.
"All the songs are based on personal experience and it came during the time when I'm going through a stage of self assessment and deep introspection. So personally, the album itself is very special, even revelatory when I look at it now," concludes Michael.