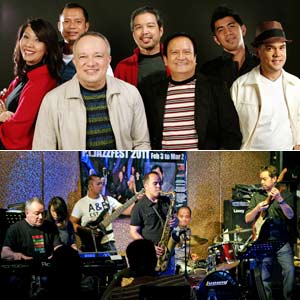 ---
The name Kiss The Bride evokes a variety of interpretations.
For those covering the entertainment beat, the name sounds like the title of a television series or a rom-com starring Eugene Domingo.
It could also be a stage musical play—perhaps a local staging of the small New Jersey play which ran back in 1995.
But Kiss The Bride is actually a jazz fusion group composed of Tony Razon (keyboards), Joey Puyat (guitars), Kingsley delos Santos (bass guitar), Vince Lahorra (saxophone), Joseph Marco Concepcion (drums), Ulysses Avante (percussion), and Cecile Rodgers (synthesizer and band manager).
Jazz fusion is a hybrid of traditional and contemporary jazz, mixed with swing, bebop, Latin, Hispanic, and other Middle Eastern influences.
The members of the band are all established musicians who share a common goal: To compose original music and perform it themselves.
"Why did we come together? I speak for myself, 90 percent of what I play is other people's music. Now with Kiss The Bride, it's 100 percent our music—it's totally composed and arranged by us," Joey told PEP (Philippine Entertainment Portal) during a conversation at Strumm's in Makati City.
"There's a big difference when you play music that you own; you feel it more. We came together because the concept of the band from the very beginning was to play only our music and because Tony Razon, our keyboard player, arranger and composer, has [composed a lot] of music."
BRAVE ACT. Nowadays, musicians who prefer to write and perform original songs are rare, considering the trend of dishing out cover tunes to land more gigs and please the mainstream market.
The fact that Kiss The Bride plays jazz music—a genre that is long considered "niche" and even high-brow—makes their musical foray commendable.
Joey clarified that they have absolutely nothing against doing cover songs. Being a seasoned musician himself, the amiable guitarist appreciates popular songs and how they can easily enchant listeners.
ADVERTISEMENT - CONTINUE READING BELOW
"Covers are nice because people are familiar with them," he explained.
"But when you play something kasi, you have to feel it. We tried [doing covers] pero mas at home yung feeling namin pag sa amin yung tinutugtog namin. So we thought that might be the concept of this band. Kasi 99 percent of the bands here are cover bands. Why not be that one percent?"
It helps that the band's main composer and arranger, Tony Razon, is naturally gifted when it comes to churning out jazz tunes.
This is Kiss The Bride's edge over other jazz groups. Even young listeners find their music catchy and engaging.
"They're simple melodies," said Joey about their music.
"We're not doing something that is mahirap maabot. I play rock and heavy jazz, and I can say that what we're playing here is something that all ages can identify."
Kiss The Bride will prove its drawing power when the group embarks on a bar tour to promote their debut album titled Stories — a collection of colorful tales that shaped their songs.
Catch the band at Strumm's on March 15, Skarlet's Jazz Kitchen on March 23, and Charlie's Speakeasy on March 30.
Sponsors of the album tour are 106.7 Dream FM, Roland, Fender, Washburn, and Strumm's.
There's a saying that goes, "Good music will always be good music," and Kiss The Bride has put utmost importance to that creed every time they play.
"We're not out to impress anybody. We're out to make people smile. We want them to have a good time and come out of the experience saying, 'Hey, we enjoyed that!' said Joey.
Following are the tracks for Stories:
Sky Next To Me
Gypsy On My Mind
High On You
Murphy's Day Off
Serenade For Eden
Secret Of San Simon
Grey Sweater Days
East To Forever
Steppin' Out With My Baby
Theme For My Bride
Moments
Sky Next To Me (reprise)