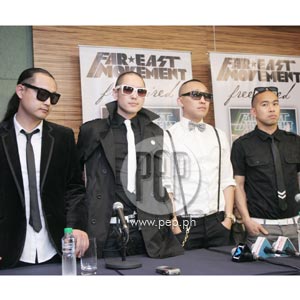 ---


The hip hop/electro group Far East Movement (FM for short) recently headlined a concert at Republiq at Resorts World Manila.

FM is a hip hop/electro group considered to be the first group with Asian American roots to earn a slot in the top 10 of U.S. mainstream charts. Their hits songs "Like A G6" and "Rocketeer" landed on Nos. 1 and 7, respectively, on the Billboard Hot 100.


They recenlty held a press conference at the Marriot Hotel at Resorts World Manila to talk about their Free Wired tour, which started in Australia.
Far East Movement's James Roh said, "We grew up around so many different people. We learned a lot from all these different ethnicities. I didn't know a lot about the Filipino culture before. Once we met Virman, we learned a lot."
James is referrring to Virman Coquia (DJ Virman), who has Filipino parents. Other members include, Kevin Nishima (Kev Nish), who is half Japanese and Chinese, Jae Chong (J Splif) and James Roh (Prohgress), who are both of Korean descent.
"DJ Virman's family is just so loving. All his cousins will come out and support each other, especially during their birthdays. They just really root for each other. Since Virman started spinning, the whole family goes to our concerts now. It gives you a sense of security. We're grateful for that," said Prohgress.
"Rocketeer" was co-written with singer-songwriter Bruno Mars who is incidentally, half-Filipino and half-Puerto Rican. Mars is set to hold a concert in Cebu by April 7 and at the Araneta Coliseum in Manila by April 8. (CLICK HERE to read related article)
Other artists who collaborated with FM in Free Wired are Snoop Dogg, Keri Hilson, The Stereotypes, Ryan Tedder of OneRepublic, Mohombi, Frankmusik, Kayla Kai, Natalia Kills and Ya Boy.
DJ Virman said, "We have got to give credit to Bruno Mars and The Stereotypes who are our kind of crew. We're just a crew in L.A. and we just hang out in the studio and make music. So when you have that room filled with so many creative minds it helps. That's why we're really proud of this Freewired album more than any other work we've ever done."
ADVERTISEMENT - CONTINUE READING BELOW
The group guested in GMA-7's Sunday variety show Party Pilipinas and had a special performance.