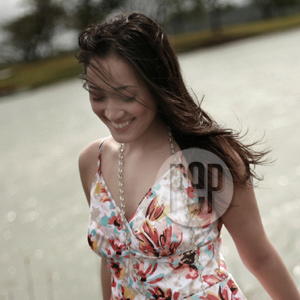 ---
Singer-songwriter Julianne couldn't be more honest when she described herself as a transparent person. "What you see is what you get," she confided, unmindful of all the rollers dangling from her hair. She was being prepped for her performance at the Eastwood Central Plaza last June 15 when PEP (Philippine Entertainment Portal) talked to her at Teriyaki Boy in Libis.

Julianne, whose full name is Julianne Tarroja, started showing interest in music at the tender of age three, or perhaps two. "Well, that's what I think," she laughs before pausing tentatively. "But yeah it was around that age. See, I was too young to even remember," she wittingly defends.
FROM STANDARDS TO CONTEMPORARY SOUL. Confusing chronological issues aside, Julianne has definitely come a long way from the little girl who used to record her voice using a recorder while indulging in the immortal tunes of the Beatles, James Taylor, The Carpenters and other standard staples.
ADVERTISEMENT - CONTINUE READING BELOW
Julianne eventually developed an interest with the guitar when she was nine years old and with the guidance of her father, who is a guitarist himself, she quickly familiarized herself with the popular six-string instrument.
"Parang laro lang sa 'kin nung bata ako and akala ko lahat ng bahay may gitara so I never thought of it as parang a special talent. I thought lahat ng tao marunong mag-gitara," she shared animatedly.
Music became a way of life and Julianne's enthusiasm led her to other genres. "I then discovered Stevie Wonder and other good soul artists. It's a continuous introduction to different kinds of music even until now," narrated Julianne, who is now enthralled with the so-called neo-soul music. "It's just a combination of different kinds of genre like soul, funk, jazz, R&B, and pop," she explained.


GRATEFUL. Bringing all her musical influences together, Julianne reveals her innate musical talent through her debut album aptly titled, Grateful, under MCA Music Inc. The record consists of nine all-original tracks and two acoustic versions of the first single "Tulak ng Bibig" and the title track, "Grateful."
ADVERTISEMENT - CONTINUE READING BELOW
All songs were composed by Julianne herself, documenting all her hidden emotions and thoughts decked with sincere delivery and interpretation. "The last time I had a boyfriend was three years ago," she revealed. "But it doesn't mean that all of the songs in the album are about him. Some of the songs were inspired by other people's experiences and my changing views of life in general."
Julianne wants to shatter the prevailing notion that her music caters only to a specific market—amplified even more by the fact that "Tulak ng Bibig" was the only song in the record written and sung in the vernacular.
"I hope people would listen first and look at the lyrics and meaning of the songs before judging. I don't believe that music should be typecast or judged just because it's not delivered in Filipino. Music is universal and it expresses kung ano 'yong nararamdaman ng lahat. But I'm proud to say that based on the reaction of some people who heard my record and some who were able to watch my shows, I think I'm achieving exactly what I set up to do," concludes Julianne.
ADVERTISEMENT - CONTINUE READING BELOW