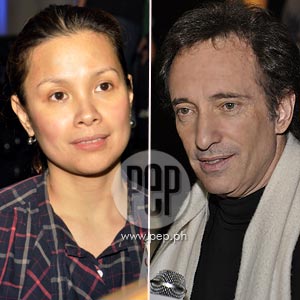 ---
Filipina singer-actress Lea Salonga and American singer-songwriter David Pomeranz are all set for their first concert together happening tonight, March 29, at the Newport Performing Arts Theater of Resorts World Manila in Pasay City.
PEP (Philippine Entertainment Portal) was able to get a short glimpse to their rehearsal yesterday, March 28. Lea and David were both excited about the numbers they have prepared for tonight. Among the songs we heard were David's best songs like "Born for You" and "Got To Believe in Magic."
In an interview with the award-winning Broadway artist, she said this is the first time she would work with David as a perfomer. Lea's first encounter with him was when she was doing the part of Oona Chaplin in the concept album Little Tramp, which music and lyrics by David.
"I think throughout the years, we've kept in touch. And many, many years later, we're actually doing a show together," said Lea.
ADVERTISEMENT - CONTINUE READING BELOW
Then, she added, "It was fun rehearsing today because I got to sing along some of the hits that he created and I get to sing a couple of stuff that he'd actually written. And we got to do the Little Tramp stuff in the show. It's something that we look forward to."
Lea pointed that this event is going to be different from her previous concert performances because, "Normally, when I do a show, it's pretty much like I'm a solo billeted artist and I have guests. But for most of the two hours and change, it's pretty much just me up there.
"With this one, which is kind of cool, I get to share the responsibility with David and we pretty much get to do a lot of duets and do a lot of singing. We get to do a lot music and it's just jam-packed."
ADVERTISEMENT - CONTINUE READING BELOW
For his part, David has become a regular presence here in the Philippines. He has done several solo concerts here and the warm reaction from Pinoys has been one of the reasons why he always likes performing here in the country.
In a separate interview, David said, "Well, there's the kindness and the sweetness to Filipinos and my dear friends here. It is the sweetness, the dearness, and the love."
So for the David & Lea concert tonight, David promised, "We're gonna have a wonderful time. Leah and I, we'll sing our favorite songs and just get really deep into the emotion of music, which is something that I love to share."