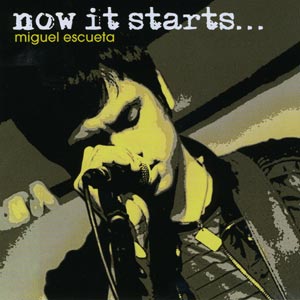 ---
Following his EP album Sleeping While the World's Awake, rock artist Miguel Escueta releases his second full-length album called Now It Starts.
"[It is] a mixture of songs I write, songs I listen to, and songs we cover. It's all really a mix of those, you know, our new stuff. It's really part of who we are now," says the Party Pilipinas Rocker during the album launch last Friday, March 25, at the Borough restaurant, The Podium mall in Pasig City.
Miguel takes pride in the fact that Now It Starts is the result of the teamwork exhibited by his colleagues.
He related to PEP (Philippine Entertainment Portal), "Grabe, 'no, we put in so much hours into making this sound and performing as good as we can. If people actually see the hard work we put in to come up with the record, I think worth it naman."
Aside from this, Miguel is also planning to release a digital version of the songs in the album. He's aware that listeners rarely buy CDs nowadays so he thought of adjusting to their need.
He pointed out, "Obviously, ang market namin is youth, e. Hindi na sila bumibili ng CD. So, I think, it's maximizing the digital [version] and that's where the record label comes in. I have a strict team that we try to push a lot online."
Now It Starts, which is released under MCA Music, is composed of 11 songs including the covers of Mariah Carey's "We Belong Together" and New Order's "Blue Monday."
Its carrier single, which is also the album title, is going to have an accompanying music video which is set to be shown in April.
MAKING HIS MUSIC HEARD ABROAD. Miguel is not only excited with his new album but also with the news that "Now It Starts" and "You," another original song from the album, have actually caught the attention of a former musical director in a U.S. TV network.
ADVERTISEMENT - CONTINUE READING BELOW
The 26-year-old music artist said, "A former musical director of CBS Network in the U.S. picked up "Now It Starts" and used some of our songs. And, you know, we signed those songs to them. The ball is rolling already and it's being pushed on American TV. It's with the NBC, the ABC, the CBS network. Officially, it's with the music supervisors of Smallville, Gossip Girl, Vampire Diaries, and CSI."
However, Miguel refused to elaborate further because, "I don't want to say sure until mangyari."
Right now, the young singer-composer feels blessed to have this kind of opportunity.
He told PEP and the other media, "It's great that someone is representing my music there. And it's also very flattering and heartwarming to know someone of that stature would actually believe in my music.
"It's really brought a new life for us. That's why I really want to make the music video as good as we could. Because once it comes out there and people look for it, 'We want to see a world class video.' That's really our thrust right now."
TRACK LISTING.

An Introduction (waves)
Now It Starts
Love Fool
Rush Rush (feat. Sabrina and Kris Lawrence)
We Belong Together
The Take Back
A Bridge (waves)
Blue Monday
Only Hope
Just Like Heaven
Mr. Brightside
Sleeping While the World's Awake
You