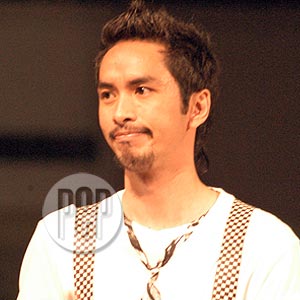 ---
After weeks of silence and leaving everything to speculations and various theories, Lizza Nakpil, Rivermaya's primary point person, officially released a statement confirming band leader Rico Blanco's departure from the 14-year-old influential rock band.
Here's the full content of Lizza's letter, which was given out to some members of the press:


"We confirm that Mr. Rico Blanco has written us a letter of resignation from Rivermaya. We are unable to give an explanation for this action since Mr. Blanco's statements are inconsistent with the facts. For the record, Mr. Blanco did not make any announcement of his leaving Rivermaya as early as 2005, or in 2004 or 2006, for that matter.
"On the contrary, he actively participated in and benefited from our plans and activities, not to mention the record-breaking number of awards, local and foreign concerts and endorsements during those years.
"While our artist-management contract was automatically and validly renewed, the same letter contains a bewildering and inaccurate declaration that neither Mr. Chito S. Roño nor I have been his managers since 2003.
"'Inexistent and of no force and effect' were his words to describe a relationship that has spanned 14 years since the start of his career in the music business.
"That notwithstanding, we have done our best to deal with the situation with professionalism and to dissuade Mr. Blanco from pursuing a rash course of action, that would delay if not cost all of us our successful entry into the international market.
"Unfortunately, and despite our best efforts, Mr. Blanco has decided that he no longer shares our vision of a Rivermaya that can spread its wings into Asia.
ADVERTISEMENT - CONTINUE READING BELOW
"Mr. Blanco has not made it plain as to what he plans to do next and we have not been able to correctly assess our options or courses of action to take, given his leaving the band.
"Be that as it may, Rivermaya is not ready to turn its back on its fans and the many relationships we have built in the Philippines and in the rest of the region.
"We are committed, more than ever, to follow our dream of bringing Original Pilipino Music to our neighboring countries, and to finish what we have started, in the name of all Filipino musicians.
"We have seen for ourselves how the power of OPM can transform the image of the Filipino abroad and how, in our own small way, we have given our fellow Filipinos working abroad newfound pride in their country.
"The road ahead will not be easy, in fact it will be a monumentally difficult one—and already the naysayers and doomsday experts abound—but we are ready to pray hard and work even harder to take on the task ahead. We take heart in the thousands of text messages, phone calls, and email we have received from friends in and out of the country, asking us not to give up the fight.
"Thanks to them, our hopes and courage are intact. We salute all our comrades, past and present, but we continue to believe that no one member of Rivermaya is greater than the whole.
"In the next few weeks, we will finalize our plans on how we intend to face these new challenges—and we will share them with you every step of the way. Only with your support and God's help can we even begin the incredible journey ahead of us."
ADVERTISEMENT - CONTINUE READING BELOW
As previously reported here on PEP, Rico's official last gig with Rivermaya took place last May 4 at the Metro Bar. Though hints of break-up were abundant during that fateful night, no one officially confirmed the news; everyone in the Rivermaya camp refused to make any comment to validate the reports of a break-up.
Rivermaya has been one of the most successful groups to emerge during the alternative band explosion that occurred during the early '90s. While most of their contemporaries had already disbanded, the band managed to survive changing music trends and climate through Rico's innovative songwriting. Prior to Rico's abrupt exit, the band was doing well in Southeast Asia particularly in Indonesia, Singapore, and Malaysia.
Rico, as of the moment, is still mum regarding his plans, though talks are getting louder that the singer-songwriter will pursue a solo career while continuing to write songs for other artists.