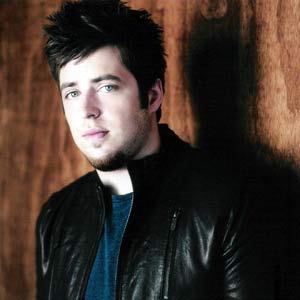 ---
American Idol Season 9 winner Lee DeWyze walks into Ballroom 2 of the Eastwood Richmonde Hotel and is warmly welcomed by the crowd of reporters and fans. He blurts out "Wow!" as he poses for a few photos and greets his fans. The laidback singer is dressed in an all-black tailored suit and flip flops.
Lee admits he is overwhelmed by the Filipinos' trademark warmth and hospitality. "Even when we got off the plane, it was like, instant friendly. Everyone that I met was just above and beyond nice, friendly, willing to show me around. Everyone has just been incredibly generous and awesome, so far it's been an amazing experience."
The Illinois-born singer-songwriter previously had a band before joining AI. He shares writing credits on 10 of the 11 songs in his album and comments on how his music has changed. "I think that, with any song I write, you're inspired for certain reasons to write a certain way. Maybe when I was younger, some of those songs are a little darker. Coming off the show, I was in a good mood, I was in a good place, so writing songs like that came naturally.
"I'm always gonna write whatever I'm feeling. I don't think there's anything wrong with tapping whatever emotions and feelings you're going through and going with that. I don't want every song to sound the same. I want a variety of music for people to listen to and connect to because I think that's important. I just write what I'm feeling.
ADVERTISEMENT - CONTINUE READING BELOW
"I love to write and I love to put a lot into lyrics. I put stories into the songs. I think that, for me, when I listen to the song, I'm always listening to the lyrics and the content of the song. I either try to relate it to something in my life or connect to it. Songs are emotionally-driven, that's the way I write. I'm gonna continue to write like that."

With so many musical acts and so many avenues to release songs today, Lee says, "at the end of the day, good music always rises to the top. Album sales don't necessarily reflect on talent or even quality of music. If I was to gauge how I feel about myself or the success of my career in the music business, on album sales, then I'm in it for the wrong reasons. I'm in music simply because I love it."

When asked if he was open to work with our very own Charice, he replied obliquely, "I'm open to work with anybody. It's one of those things that brings people together. I think there are a lot of things that separate people and tear them apart. But I think that music is one of those things that can bring people together. I'm always willing to work with anybody who loves music."
LOOKING BACK ON HIS CAREER. Lee recounts that he has always loved music. "I love to sing and play the guitar. There's a connection between me and the instrument. I'm very passionate about that."
ADVERTISEMENT - CONTINUE READING BELOW

It is widely known that he was working as a paint salesman in Mount Prospect, Illinois when he auditioned for the show that would later change his life. "When I worked at that store, I'd go in and I'd bring my guitar and before and after work. I'd sit there and I'd play and write songs," he recounts.

"When American Idol came to Chicago, I saw [announcements about] the auditions and it was literally a last second decision. I wasn't even gonna go," Lee narrates how his friend was going to audition and was prodding him to do the same. But he hesitated. "I said: 'I don't know. There's gonna be a lot of people. I've got to take off from work, my boss is gonna be really mad.' The next thing you know, I was like: 'Why not?' I got in line and the rest is history."

"On the show they made a big deal about my being a paint salesman. If anything, for me, that was the most normal thing. Everybody has a job and everybody struggles and has things that they have to go through. I work, a lot of people work. That's just one of the things you have to do in order to make a living. Going from that to doing what I love to do and what I've always wanted to do is a blessing.

"I wanted people to like me because they like my music and they like me as a person. I'm never acting or putting on a show for anybody. I'm never pretending to be something that I'm not. I find that life's a lot easier when you just be yourself.
ADVERTISEMENT - CONTINUE READING BELOW

"On the show, when the judges say things to you, you can't take them to heart and you can't take them as 100% correct. You have to filter out the constructive criticism and take the positive, look at the negative, see if you can take anything from that, and if not, put that in the past. But I think I'm my hardest critic."

Lee was part of the last season of American Idol that featured Simon Cowell as a judge. "Out of all the judges though, I looked to Simon because you knew that he was going to be blunt and honest. To get it from a guy like that, it's pretty intense, especially in front of a bunch of people. He's a good dude and he knows what he's talking about."

"I don't think there's anything wrong with pop music. But for me personally, I wanna be packaged as me. There are so many ways to be known now. The best way to support an artist is to support their music."
ON BEING COMPARED TO PAST WINNERS. Lee is aware that his achievements will inevitably be compared with past winners of American Idol.

"To be compared to another artist is an honor because it's cool for people to think of me like that. But I try not to think of that stuff. I make music the way I want to make it and I do my thing. I don't worry too much about being compared to other artists because I think that's always going to happen especially on American Idol."


He cites the succession of singer-songwriters who have won: David Cook (Season 7 winner), Kris Allen (Season 8), then Lee. "But if you really love music you'll listen to it and realize that we're all different people and we have different styles. I think that's the beautiful thing about American Idol, it gives people an opportunity. When you really listen to it, it's very easy to draw the differences."
ADVERTISEMENT - CONTINUE READING BELOW
Lee admits that he is currently in a relationship and is trying to juggle his career with his personal life. "Whether it be family, friends, a girlfriend...it's hard to keep relationships [strong] when you're away. Like my parents, they want to talk, it's really difficult sometimes. But at the end of the day, when you're close to somebody and when you're away, and you have a good relationship, it doesn't matter how busy or how far away you are. You'll make it work and you just do your best to make it work."

Lee appeared on GMA-7's noontime show Eat Bulaga! last Saturday, May 7. He also performed at the Venice Piazza in McKinley Hill on May 7 and he also wowed fans at the Eastwood City Open Park on May 8.
Lee DeWyze's album, Live It Up, is currently available in record bars under Sony Music.