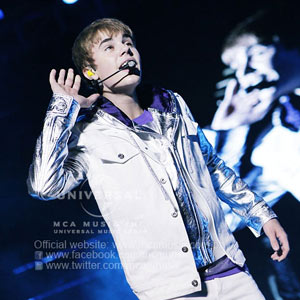 ---
Phenomenal YouTube sensation turned top-selling international artist, Justin Bieber performed for his first-ever 'live' concert at the SM Mall of Asia Concert Grounds last Tuesday, May 10. According to MCA Music, Justin Bieber's My World Tour in Manila had "over 50,000 attendees."
At the age of 17, Bieber proved that he is worth more than 10 minutes of fame. Acclaimed for chart-topping hits and singles that reign countdowns, Bieber showed his dedication when he pushed through with the concert even though he was diagnosed with a chest infection.
The teen idol performed in the Philippines for his My World Tour, after which he proceeded to Hong Kong for the next leg of his tour. Bieber's press conference was held on the same day of the concert, which was also graced by media personalities.


The 17-year old singer gladly opened up and answered questions while admitting that he appreciated the overwhelming support of Filipino fans. MCA Music, Inc. (Universal Music Philippines), headed by their President Ricky Ilacad, also awarded Justin Bieber a 7x Platinum Award, by giving him a guitar-shaped plaque (specially-designed by Grassroots, Inc.,) for the massive success of his released albums: My World, My World 2.0, My Worlds, My Worlds-The Collection, Never Say Never: The Remixes.


A number of winners and lucky fans from various contests were also able to personally meet and greet Justin Bieber. To top it off, they also had their once-in-a-lifetime chance to have their photos taken with their idol. Eager screams and a festive vibe filled the atmosphere of the backstage area where these fortunate fans waited for their turn to see Bieber up-close.
Bieber's Manila concert was opened by Poreotics, America's Best Dance Crew season 5 winner, with the following of Bieber's proud-to-be-Pinoy back-up singers, Legaci.
Bieber's all-time #1 hit single, "Baby" topped off his concert repertoire that night, much to the delight of the crowd.
ADVERTISEMENT - CONTINUE READING BELOW