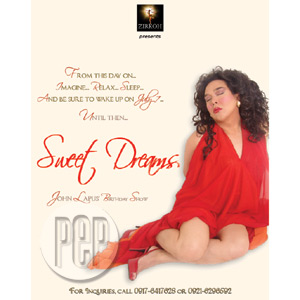 ---
John "Sweet" Lapus will be turning 34 years old this July and what perfect way to celebrate it but with a birthday concert aptly titled Sweet Dreams.
This special birthday concert to be held at Zirkoh Comedy Bar along Timog Avenue in Quezon City will have a show date on July 7, 2007. Take note that Sweet's lucky number this year is 7.
"It's very coincidental. The concert's date is 07-07-07. That's three times lucky, right?" John says with delight. "Then I'm turning 34 this year. So, 3 plus 4 equals 7. And I'm now a certified Kapuso star under GMA-7. So it's going to be very lucky year, not just for me, but for the people I am working with presently and in the future."
For the past five years, John has been staging a big show on his birthday. It's his way of thanking his supporters for being there and always waiting for something new in his yearly birthday show.
"Putting up my own birthday show is some sort of therapy," says John. "Every year, I get the birthday blues. Because another year is added to my age and I don't want to feel and look old. Doing a birthday show only proves that I get better with age.
"The more mature I get the better performer I've become. It's funny because I'm not a singer nor am I a good dancer, but I always have a jam-packed concert every year. I thank the Lord for still giving me the energy and the talent to entertain many people year after year."
ADVERTISEMENT - CONTINUE READING BELOW
John, who was given the title Universal Sweet, is no longer new to the entertainment scene since he has molded himself as a stand-up comedian for more than a decade now. Born a natural performer, John has done shows for various comedy lounges as well as big-show venues here and abroad. In 2005, the Universal Sweet bagged the Aliw Award for Best Stand-Up Male Comedian.
"In everything that I do, be it on TV, movie and stage, I give it my best. I don't want to shortchange my audience. They came and paid to watch a good show, and I will give them the best show that I can possibly offer. I am not called the Universal Sweet for nothing," John says laughing.
Presently, John is making progress as one of the main TV hosts of GMA-7's Sunday showbiz talk show, Showbiz Central. Hosting a talk show is one of John's dreams and GMA-7 has made it all come true for him.
"Though I'm not new to TV hosting because I've pinched-hit a few showbiz talk shows when I was with ABS-CBN. But it was GMA-7 that really gambled on my talent when they asked me to be one of the co-hosts of S-Files. Now with Showbiz Central, I am once again very grateful for the trust they gave me. Just like in my other shows, I will definitely give it my best."
That's why the birthday concert Sweet Dreams is a culmination of another year in John's life. Sharing the stage with John are his special guests: Mark Herras, Pinoy Pop Superstar Grand Champion Jonalyn Viray, and Janno Gibbs.
ADVERTISEMENT - CONTINUE READING BELOW
"It's going to be one special night because of my guests," John says in delight. "Watch out for my dance number with Mark and, if God allows me, I might do a duet with Jonalyn. With Janno, we might do a Sobrang OJ number. It's going to be a fun concert this year."
And, like all his previous birthday concerts, John has a special surprise at the end. Last year, he was shaved bald on stage that really bought down the house. This year, will it be another shocker?
"It's a big secret. They must watch Sweet Dreams to find that out. Who knows, I might undergo a liposuction on stage! Anything is possible with the Universal Sweet!"
Sweet Dreams is sponsored by Calayan Surgicentre, Voyager Bags and Luggages, Hype, Hairwatch and Saver's Digital Hub by Saver's Mart.
For ticket inquiries, text or call Lester Buenviaje at 0915-3992082; or Bangs Arevalo at 0917-4105483.