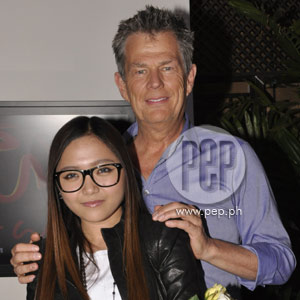 ---
"I don't need no shoulder / I'm gonna be a soldier," sings Charice in "Louder," the second single of her upcoming second album.


Charice shows her feisty side in this song, which has some lyrics that go: "I'm just gonna run right thru the rain / I'm just gonna dance right thru the pain / I'm just gonna feel that rhythm / feel that drum / let my heart beat louder / let my heart speak louder than my head."


In an interview with Teen.com last May 31, the Filipina singer gave a sharp message to her detractors:


"I released 'Louder' and 'Lost The Best Thing.' We're gonna do the music video for 'Louder' because I really love to dance and the song is really an inspirational song. I can totally dedicate that to all the haters out there. You know, like, I don't need you. I don't need no shoulder, you know? I'm gonna be a soldier. No one can bring me down. I'm just gonna do this and be brave.
ADVERTISEMENT - CONTINUE READING BELOW
"That's why it's called 'Louder' because your being brave is so much louder than you being weak. It's such an amazing song, such an inspirational song."


POSITIVE FEEDBACK FOR "LOUDER." Her second single has caught the attention of American critics, some of whom have graciously praised Charice and the song's positive message.


In its review, Popcrush.com states:


"Like Charice, 'Louder' is destined for greatness as the feel-good anthem of the summer. As for the Filipino singer/songwriter/'Glee' star, she's paving the way for future teen pop icons with a positive attitude—and we can't wait to see how she blossoms in the industry."


CRITICISMS AFFECT CHARICE. After becoming a YouTube sensation, Charice's singing talent allowed her to appear in U.S. programs such as The Ellen DeGeneres Show and The Oprah Winfrey Show. She recently concluded her guest stint in Glee Season 2 and she wrapped up shooting for her Hollywood film, Here Comes the Boom.


(CLICK HERE to read related article)


Charice has gained a strong following (with her fans dubbing themselves as Chasters) but her meteoric rise to fame has not been spared from intrigues.


Recently, the 19-year-old singer deleted her personal Facebook account after getting negative criticism from "backstabbers."


Last June 7, she tweeted: "Glad I deleted my Facebook. It's funny to invade some non-public pages and see other "not so true chasters" talk negative stuff about me."


Support poured for the singer-actress, prompting Charice to reply: "I care because they WERE chasters. :) Of course I care. But now that I found out about it...Will forget about it."
ADVERTISEMENT - CONTINUE READING BELOW