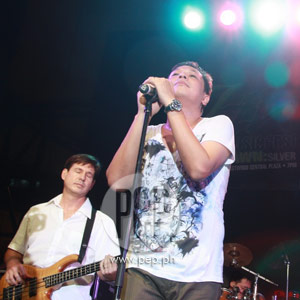 ---
The Dawn celebrated its 25th anniversary concert at the 7th Jam Music Fest held recently at the Eastwood Central Plaza. Bands that paid tribute to The Dawn that night were: Imago, Sandwich, Peryodiko, 6CycleMind, Rivermaya, General Luna and top solo performers like Ebe Dancel and Nyoy Volante.

Rivermaya guitarist Mike Elgar remembers his first gig when they chose to do a cover of The Dawn: "My first gig was in 1989 with a band called Black Roses with Mark Laccay was on bass our first show we played five songs: "Boys Don't Cry", "Pride", "You Really Got Me Now", I forgot the other one. The last was "Salamat". In case yung di nakaka alam diyan I was part of the Jett Pangan group."


Incidentally, Jett will be a special guest together with Dulce and Bituin in the Ryan Cayabyab and Friends concert at the Resorts World on June 28, Tuesday.


(CLICK HERE to read related article)

Former band mate Mark Laccay has become a sound designer for films like Happyland by Jim Libiran and The Leaving by Ian Dean Loreños. But it was Tribu also by Libiran that Laccay won a Cinemalaya award for "Best Sound Design."

One of the original Rivermaya members, Mark Escueta also has a similar memory of an early gig, "When I started playing drums one of the first three songs I ever learned was Love Will Set us Free., the other two was Bulldog by the Ventures and 18 and Life by Skid Row. That was the very first gig of our band with Norby with the name Feedback in 1990."
Both of them clearly remember that The Dawn influenced a lot of other musicians.

"Most of us were influenced here lalo na when we started. Sila yung THE band," said Elgar.


Escueta added, "For all the existing bands right now they owe something to The Dawn talaga. Pumunta ako sa Club Dredd early '90s grabe itong The Dawn talagang pro sila. First time ko nakakita nagdala ng sariling monitor sa gig. Ibang klase 'to.
ADVERTISEMENT - CONTINUE READING BELOW

Unlike Jett Pangan, however, Escueta does not see himself acting, "I think I'm going to leave the acting to my girlfriend Jolina Magdangal." The two have been in a relationship for more than a year now.

To celebrate its 25th anniversary, The Dawn co-wrote and performed a special single with Raimund Marasigan (of Sandwich) titled "9,125". The song, according to Pangan, is already finished and will soon be played on radio station Jam 88.3.


A tribute album of The Dawn classics titled Enveloped Ideas will be launched at The Hard Rock Café in Glorietta on Thursday, June 30, 2011.

The album will feature the hottest indie bands such as Techy Romantics, Enemies of Saturn, Join the Club, Lip service, Ginoong Vitalis, The Disco Ball, Happy Days Ahead, Overtone, Flying Ipis, Gun Monkeys, Switch, Rubberpool, Milk and Money, Soft Pillow Kisses and Playphonics.