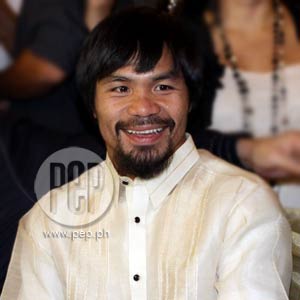 ---
Manny "Pacman" Pacquiao is becoming popular in the United States not only as a boxer but also as a singer.


According to ABS-CBN News, Manny's duet with singer-songwriter Dan Hill "Sometimes When We Touch" has reached the No. 19 slot on the Billboard Adult Contemporary top 20 list. It has been climbing up the list up from the number 25 spot last week and it has become the third most added song on radio playlists in the United States.
"Sometimes When We Touch" is a 1977 ballad written by Dan Hill. It was Hill's biggest hit, peaking at No. 3 on the U.S. Billboard Hot 100.
Artists such as Tina Turner, Tammy Wynette, Rod Stewart, Barry Manilow and Engelbert Humperdinck are among those who have covered the song.


Hill was inspired to record the song with Pacquiao when he heard him sing the song during his November 3, 2009 guesting on Jimmy Kimmel Live. This was Pacquiao's first guest appearance on an American late-night talk show and his first time to sing on American television.



Sarangani Congressman Manny Pacquiao recorded the song at Capitol Studios in Texas last year as he prepared for his fight with Antonio Margarito.