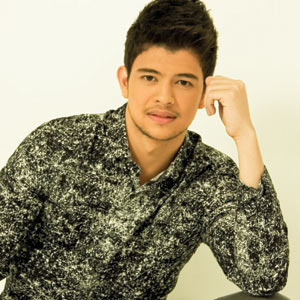 ---
Well-known for his agile dancing ability, Rayver Cruz adds another feather to his cap by penetrating the recording industry. Ravyer started his acting career at a very young age and is still visible in the local entertainment scene. His relationship with fellow ABS-CBN star Cristine Reyes has been tackled in social networks, newspapers and celebrity TV shows for several months now.
"I've been singing since I was 9 years old but I'm always a dancer at heart," says Rayver during one of his interviews.
Sony Music noticed the potential of Rayver as a recording artist when his management team gave a copy of his previous recordings. "This guy has a good singing voice but can he 'really' sing?" quipped a Sony Music executive during a Sony meeting.
During the recording of his five-song self-titled EP, the Sony A&R team and record Producer Jonathan Ong (Gloc 9/Kiss Jane/Parokya ni Edgar) were reportedly stunned by how efficient Rayver was recording in the studio.
"He finished three songs during the first session...Most recording artists finish just one song during a session," producer Jonathan Ong was quoted as saying. "I mean he knows what to do, he's an excellent singer who knows how to sing properly in a recording and most importantly, he can sing a song and mean it."
"I've been recording countless songs for ASAP but this is first ever proper album," said Rayver who even sang his own back-up vocals in the EP. "Astig yung experience ko sa studio recording the album. Everybody was so kind and patient with me. Everything went smooth."
"Mostly R&B and dance songs are on my playlist," says Rayver. As a result, his EP mainly consists of songs in these genres.
Rayver the EP includes 5 songs: "Alam Mo Naman," "143," a fresh take on Ariel Rivera's hit song "Mahal Na Mahal Kita," "Have Fun Go Mad" feat. Sheng Belmonte (formerly from Pinoy Dream Academy) and "I.O.I.O" feat. Jaq Dionisio of Kiss Jane (Lagi).
ADVERTISEMENT - CONTINUE READING BELOW
Rayver is now out in CDs under Sony Music Entertainment and is available on all major record stores nationwide.