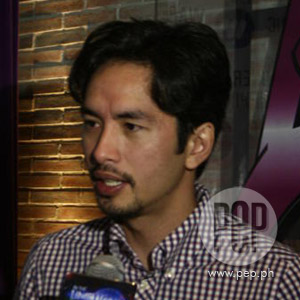 ---
Rico Blanco has achieved much in the music scene as a composer, musician and performer. He proved his staying power when he was launched as a solo artist in 2008. This year, he gives back to society by lending his voice to an advocacy that aims to benefit the next generation.
YOUR UNIVERSE REPACKAGED. The 38-year-old musician opened up about the repackaged version of his first album, Your Universe, under Warner Music Philippines.
The first CD of the limited edition contains the original tracks of the album while the second CD features six new tracks including his song "Kahit Walang Sabihin."
Other tracks included in the album are "Bangon," which is dedicated to the victims of typhoon Ondoy and enjoys a fair share of radio airplay. "China in Me" is another track included in the Southeast Asian album release and the chart-topper "Neon Lights" along with its Funk Avy remix, which debuted at Music Bus Hong Kong and an acoustic version of "Your Universe."
When asked how important it is to him to break international charts with his songs, Rico says he and his bandmates appreciate it even when their songs are played on the radio in a small barrio somewhere.
"If it's played by my neighbor and I hear it, lastly on the radio, in my neighborhood, I'd be as happy as if it was played in Hong Kong."
SESAME STREET KID AKO. Along with the promotion of his album, Rico also talked about his advocacy called "Sesame Street Kid Ako." The rock star has been chosen to be the ambassador for a campaign to encourage learning at an early age.
ADVERTISEMENT - CONTINUE READING BELOW
"Nabuo ito sa pag uusap ko with them. We were exploring. Actually, kuwento-kuwentuhan lang kami tungkol sa Sesame Street. I told them those exact words: Sesame Street kid ako because I grew up influenced by Sesame Street."
Rico, who is now the local face of the campaign, would like to help and make Filipinos aware of the project.
When asked to name his favorite Sesame Street character he said that it would be Oscar the Grouch. He points out that they have many similarities (especially being grumpy in the morning) and added that the character is indeed funny.
"At saka, yung imagination mo doon sa, di ba andun siya sa trash can. Tapos parang kung ano anong laman, di ba? Parang hindi maubos. Pero yung mga naririnig natin, mga sound effects lang. Tayo actually nag- i-imagine, kung ano yung napakagandang device."

TWO SONGS FOR SESAME STREET. With the support of Warner Music Philippines, Rico Blanco releases a rock version of "Ladybugs' Picnic," a classic Sesame Street song about 12 ladybugs that demonstrate the number 12 while it teaching children how to count to 12. The animated story of the song also follows the events of the ladybugs' picnic, including sack races, knock-knock jokes, and roasting marshmallows around the fire—all scored in one melodic chorus that makes it one of the most loved Sesame Street songs.
Rico also recorded and performed "Lowercase N," a song about the letter N in its lowercase format. Rico Blanco injects his signature sound to this children's song that becomes a melancholy but ultimately redemptive rock ballad about the lonely letter character. This will be released soon and made available for download on web and mobile.
ADVERTISEMENT - CONTINUE READING BELOW
Rico Blanco was thrilled at the opportunity to be part of the campaign. "I feel blessed to be given this chance to help," shares the self-confessed Sesame Street Kid.