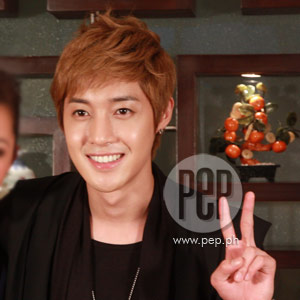 ---
K-pop superstar Kim Hyun Joong's Philippine visit only proves that he is indeed capable of striking out on his own as a solo artist.
The success of his singles "Please," "Break Down," and "Kiss Kiss" instantly propelled Kim Hyun Joong to the charts, easily making him one of the Korean acts worth keeping an eye on.
His Manila engagement—which included a press conference at the EDSA Shangri-La Hotel in Mandaluyong City and a live show at the TriNoma Activity Center in Quezon City yesterday, August 25—was organized to promote his debut album, Break Down.
The 25-year-old singer-songwriter and model actually needs little introduction to the Filipino audience.
The K-pop phenomenon that has swept Asia, and that includes the Philippines, made Kim Hyun Joong an international celebrity admired by young and adult fans.
Local TV fanatics have also come across Kim Hyun Joong through the Koreanovela series Boys Over Flowers and Playful Kiss.
Speaking with the help of an interpreter, the Korean pop star relayed feeling "shocked" and "amazed" by the warm reception accorded to him by the Filipino fans right from the moment he arrived at the airport.
Being a solo artist and touring on his own require a lot of adjustments, said Kim Hyun Joong, who is regarded as the leader and main dancer of the hit boyband SS501.
Like most K-pop artists, Kim Hyun Joong dabbled in acting to complement his rosy music career.
Giving up one for the other, however, is not an option for Kim Hyun Joong.
ADVERTISEMENT - CONTINUE READING BELOW
"It's hard to say, both of it is my profession and I love it," he answered.
In fact, Kim Hyun Joong cited singing, acting, and performing as the three major things that keep him happy and inspired.
The Manila visit is an indication of bigger things to come in the future. An Asian tour before the year ends only means that fans will be seeing and hearing more of the pop idol.
Overwhelmed perhaps by the support expressed by his Filipino fans, Kim Hyun Joong hopes to include the Philippines in the upcoming tour.
Break Down was released last June and fared impressively in neighboring Asian countries like China, Taiwan, Hong Kong, Thailand, Singapore, and Malaysia.
Kim Hyun Joong's debut solo album is also available in all record bars here in the Philippines, and is distributed by PolyEast Records.
TRACK LISTING.
Intro (Let Me Go)
Break Down (featuring Double K)
Please
Kiss Kiss
Yes I Will
Please