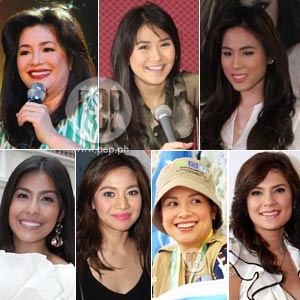 ---
Superstar Nora Aunor will be the recipient of a very special recognition, the Lifetime Achievement Award, on the occasion of the 3rd Star Awards for Music of the Philippine Movie Press Club (PMPC).


The former Tawag ng Tanghalan singing champion and holder of numerous sold-out record albums and singles, concerts here and abroad, and host of television's "longest-running musical variety show", Superstar, which was aired on RPN-9, for more than two decades, from the late '60s up 1989, was unanimously chosen by the local press group, for her unmatched achievements, as singer-performer and recording artist.
The award will be given to Ms. Nora Aunor on October 16, 2011, 6 PM, at the Lee Irwin Theatre of the Ateneo De Manila University, Loyola Heights, Quezon City.

Also to be given recognition on that occasion are the acknowledged Icons of Filipino music, whose accomplishments and contributions to the industry, in the promotion of Filipino music and talents, within the last four decades, is beyond question.
To be aired on October 23, at 9:30 PM, on Net 25, the 3rd Star Awards for Music is a production of Beginnings at 20-Plus and Star Express.
Here is the complete line-up of nominees and recipients of special awards:

LIFETIME ACHIEVEMENT AWARD
MS. NORA AUNOR

ALBUM OF THE YEAR
All Me/Star Records
Cesar Montano/Sony Music Fantasy/Universal Records
One Heart/Viva Records
Private Affairs/PolyEast Records ;
Siakol Tropa/Synergy Music &n bsp;
Talumpati/Sony Music


SONG OF THE YEAR
Can't Help Myself /Toni Gonzaga/Star Records Darating Ang Araw/ Cesar Montano/Sony Music
Ituloy Mo Lang/Siakol/Synergy Music
Maghihintay/ Mark Alain/Sony Music
Patuloy Ang Pangarap/Angeline Quinto/Star Records
Sino Nga Ba Siya?/Sarah Geronimo/Viva Records
Walang Natira/Gloc 9/Sony Music


FEMALE RECORDING ARTIST
Frencheska Farr/Inside My Heart /GMA Records
Kyla/Private Affair/Poly East Records Lea Salonga / Your Songs /Sony Music
Regine Velasquez/Fantasy/Universal Records
Sarah Geronimo/One Heart/Viva Records Toni Gonzaga/All Me/Star Records
Vina Morales/ Awit Ng Buhay/Star Records
ADVERTISEMENT - CONTINUE READING BELOW


MALE RECORDING ARTIST
Cesar Montano/Cesar Montano/Sony Music
Christian Bautista/ A Wonderful Christmas/Universal Records
Erik Santos/All I Want This Christmas/Star Records
Gary Valenciano/Replay/Universal Records
Jed Madela/The Classics Album/Universal Records
Jim Paredes/Laro/MCA Music
Martin Nievera/ Himig ng Damdamin/PolyEast Records
Ogie Alcasid/Ngayon at Kailanman/Universal Records

DUO/GROUP ARTIS
Cueshe/Life/Sony Music
Frio/Overboard/Synergy Music
Mayonaise/Pula/Viva Records
Parokya ni Edgar/Pop Rockers/Universal Records
Sakto (Rodjun Cruz, Lucky Mercado and Edgar Allan Guzman)/Sakto/Sony Music
Siakol/Siakol Tropa/Synergy Music
3AM/3AM/Star Records

MUSIC VIDEO OF THE YEAR
I believe/Jed Madela/Universal Records
Hanging Habagat/Champ Lui Pio/Poly East Records
Kahit May Mahal ka Nang Iba/Mark Bautista/Viva Records
Kaya Mo/RPG Metanoia/Star Records
Walang Natira/Gloc 9/Sony Music
You Were There/Piolo Pascual/Star Records
You Don't Know/Regine Velasquez/Universal Records
POP ALBUM OF THE YEAR
Decades 2/Star Records
Nagmamahal/Viva Records
Nang Dahil Sa Pag-ibig /Star Records
Ngayon at Kailanman/Universal Records
One Heart/Viva Records
Pinakahihintay/Poly East Records
Your Songs/Sony Music


DANCE ALBUM OF THE YEAR
I Lilly Lilly Like It/Star Records
Showtime (The Album)/Star Records


FEMALE POP ARTIST OF THE YEAR
Carol Banawa/ My Music, My Life/Star Records
Faith Cuneta/A Twist of Faith/Poly East Records
Frencheska Farr/ Inside My Heart/GMA Records
Lea Salonga/ Your Songs/Sony Music
Regine Velasquez/Fantasy/Universal Records
Sarah Geronimo/One Heart Viva Records
Toni Gonzaga/All Me/Star Records


MALE POP ARTIST OF THE YEAR
Bugoy Drilon/Nang Dahil Sa Pag-ibig/Star Records
Gerald Santos/Pinakahihintay/Poly East Records
Jed Madela/The Classics Album/Universal Records
Mark Bautista/Nagmamahal/Viva Records
Martin Nievera/Himig ng Damdamin/Poly East Records
Ogie Alcasid/Ngayon at Kailanman/Universal Records
Piolo Pascual/Decades 2/Star Records


ALTERNATIVE ALBUM OF THE YEAR
Ney DMAC/Star Records
Pop Rockers/Universal Records
RPG Metanoia/Star Records
3AM/Star Records


REVIVAL ALBUM OF THE YEAR
Awit Ng Buhay/Star Records
Decades 2/Universal Records
Handog Ni Pidol/Poly East Records
Himig ng Damdamin/Poly East Records Records
I'd Do Anything For Love/Star Records
Ngayon at Kailanman/Universal Records
The Classics Album/Universal Records


NEW FEMALE RECORDING ARTIST OF THE YEAR
Angeline Quinto/Angeline Quinto/Star Records
Maggie Trinidad/Back Home/Mamarazzi Entertainment Production
Tricia Garcia/Kulay/MCA Music
Yssa Alvarez/Addicted to Acoustic 3/Viva Records
ADVERTISEMENT - CONTINUE READING BELOW
NEW MALE RECORDING ARTIST OF THE YEAR
Jaco/Ako Naman/Poly East Records
Jake Vargas/Ngiti/Dyna Music
Joel Mendoza/Pakinggan Mo Ako/Viva Records
Jovit Baldovino/I'd Do Anything For Love/Star Records
Mark Alain/Mark Alain/Sony Music
Marvin Estrella/Marvin Estrella/Synergy Music
Marvin Ong/Marvin Ong/Viva Records
COMPILATION ALBUM OF THE YEAR
George Canseco Works/Viva Records
Inspirations/Star Records
My Heart's Journey/Universal Records
Ngayong Pasko, Magniningning Ang Pilipino/Star Records
Replay/Universal Records
Willie Cruz Works /Viva Records
60 Taong Ng Musika at Soap Opera/Star Records


ACOUSTIC ALBUM OF THE YEAR
Acoustic Princess/Vicor Records
Addicted to Acoustics 3/Viva Records
Cesar Montano/Sony Music
I Love Acoustic/MCA Music
In You/MCA Music
My Music, My Life/Star Records
Under Covers/Ivory Music


FEMALE ACOUSTIC ARTIST OF THE YEAR
Carol Banawa/My Music, My Life/Star Records
Princess Velasco/Acoustic Princess/Vicor Music
Sabrina/I Love Acoustic/MCA Music
Suy/Under Covers/Ivory Music
Yssa Alvarez/ Addicted To Acoustic 3/Viva Records


MALE ACOUSTIC ARTIST OF THE YEAR
Cesar Montano/Cesar Montano/Sony Music
Nyoy Volante/In You/MCA Music


ROCK ALBUM OF THE YEAR
Contra Tiempo/Poly East Records
Life/Sony Music
Overboard/Synergy Music
Pop Rockers/Universal Records
Pula/Mayonaise/Viva Records
Siakol Tropa/Synergy Music
Synergy/PolyEast Records
ROCK ARTIST OF THE YEAR
Champ Lui Pio/Synergy/Poly East Records
Cueshe/Life/Sony Music
Frio/Overboard/Synergy Music
Mayonaise/Pula/Viva Records
Parokya Ni Edgar/Pop Rockers/Universal Records
Sandwich/Contra Tiempo/Poly East Records
Siakol/Siakol Tropa/Synergy Music


RAP ALBUM OF THE YEAR
Join The Quest Revolution/CornerStone
Talumpati/Sony Music
Tayo ang Bagay/PRP Records
RAP ARTIST OF THE YEAR
Aikee/Tayo Ang Bagay/PRP Records
Gloc 9/Talumpati/Sony Music
Quest /Join The Quest Revolution/CornerStone
NOVELTY ALBUM OF THE YEAR
Fat Session/Viva Records
Todo Bigay/Sony Music
Unli Jejecall and Jejetext/Poly East Records
Willing Willie/Viva Records
ADVERTISEMENT - CONTINUE READING BELOW
NOVELTY ARTIST OF THE YEAR
Bayani Agbayani/Todo Bigay/Sony Music
Blanktape/Unli Jejecall and Jejetext/Poly East Records
Fat Session/Fat Session/Viva Records
Willie Revillame/Willing Willie/Viva Records
NOVELTY SONG OF THE YEAR
Jejecall/Unli Jejecall and Jejetext /Poly East Records
Kung Sexy Lang Ako/Viva Records
Tantaran/Willing Willie/Viva Records
Todo Bigay/Sony Music
ALBUM COVER DESIGN OF THE YEAR
Awit Ng Buhay/Vina Morales/Star Records
Decades 2/Piolo Pascual/Star Records
Duets/Martin Nievera/Poly East Records
Handog Ni Pidol/Dolphy/PolyEast Records
My Heart's Journey/Kris Aquino/Universal Records
The Classics Album/Universal Records
Your Songs/Lea Salonga/Sony Music