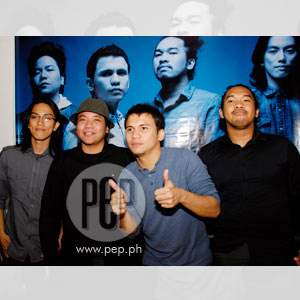 ---
Sponge Cola has always made its presence felt since entering the local music scene in 2002. The band has a knack for creating songs that leave a stubborn, difficult-to-get-over melody in one's head—in casual speak, it's the Last Song Syndrome (LSS).
Whoever got over Sponge Cola's single "Jeepney" the first time one caught it on the radio? or probably a classmate's newly burned CD of alternative/acoustic repertoire?
The song is quintessentially catchy with its lyrics and tune.
The college group turned professional rock band went on to composing chart-topping singles such as "KLSP," "Gemini," "Wag Kang Bibitiw," "Pasubali," and so on.
The band has been lauded in annual local music awards such as the MYX Music Awards and the NU 107 Rock Awards where they mostly bagged Favorite Artist, Favorite Song, Favorite Group, Favorite Rock Video, and Male Rock Icon of the Year (which NU 107 granted front man Yael Yuzon).
Recently, Sponge Cola's 2010 single earned the band a diamond record in sales. "Tambay" reached Number One on MYX and local radio stations.
"We were always sincere," says Yael when inquired about their band's winning streak. "Musically we would do what's natural for us and hindi kami naniniwala sa pegs. Ang 'pegs' parang dapat nasa farm lang sila, e."
Yes, they're a wisecracking, witty bunch when not playing music.
Finally, after their albums Palabas (2004), Transit (2006), Sponge Cola (2008), the band releases its fourth full-length album under Universal Records this month.
Araw Oras Tagpuan consists of 12 tracks that include "Tambay" and carrier single, "Regal." The album features upcoming hip hop artists Ria Redulla and Los Magno, Salamin vocalist Paolo Valenciano, also Norma Love, Iwa Motor, and Mowmow. The collaboration with these artists adds hip hop, new metal, and retro to their definitive music, so expect a bit of diversion from their trademark compositions.
ADVERTISEMENT - CONTINUE READING BELOW
"May mellow, mabilis, may retro, may UH, may new metal. It reflects how life is... in life naman wala tayong uniform, e. It's a reaction to life, an attempt to mimic life," as the band puts it.
While it ventures into other genres, the heart of Araw Oras Tagpuan is still found in its rock ballads "Kay Tagal Kitang Hinintay,""Regal," "Stargazer," "She Wants You To," and "Araw Oras Tagpuan." In these songs does Sponge Cola manifest that sincerity, the honesty that their fans have long fallen for.
In this album, nine out of twelve songs were written and co-written by Yael Yuzon. Tedmark Cruz who records his first full-length album with the band takes over the vocals in "Warning."
The album's title plays up the words "Araw Oras Tagpuan"—date, time, place, and most especially, setting— which points to a kind of narrative, a storyline that perhaps the entire album is conveying.
Yael explains, "Parang may swagger siya na... in this time, this place, I'll be there. Pero at the same time, meron din siyang parang dramatic element... time, date, place, setting. Parang part of a narrative or something... Parang may kuwento siya."
Araw Oras Tagpuan (Track Listing):
1. Tambay
2. Stargazer
3. Regal
4. Ok Dito
5. She Weeps
6. Kay Tagal Kitang Hinintay
7. She Wants You To
8. Walang Wakas
9. New Steel
10. Warning:
11. Scenic View
12. Araw Oras Tagpuan