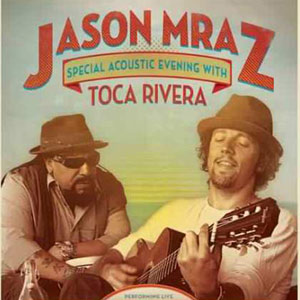 ---
American singer-songwriter Jason Mraz will bring his unique brand of acoustic music for a one-night concert in Manila by October 30, 2011.
The man behind the hit songs "I'm Yours", "You and I Both", and "The Remedy (I Won't Worry)" previously performed in the Philippines in 2009.

This 2011, Jason teams up with his longtime friend, percussionist Noel "Toca" Rivera, for this event that will take place at the Smart Araneta Coliseum.

Their concert series celebrates the tenth anniversary of their independently released classic, "Live at Java Joe's."


The two musicians first met back in 2000, when Jason was just making his mark on the San Diego coffee house scene.


Toca invited Jason to join the eponymous trio he fronted alongside his brother Carlos. The group hit the road, travelling California's highways and byways together in a beat-up Winnebago, inspiring Mraz's classic song, "Dream Life of Rand McNally." When Carlos decided to take time off, Jason and Toca continued to collaborate as a duo, earning acclaim and passionate audience responses wherever they performed. Jason's guitar and vocals match beautifully with Rivera's intuitive djembe playing and the two maintain a long friendship and collaborative relationship, recording and touring together to this day.
"I dig the groove Toca lays down with his drum," Jason has been quoted saying about his partner, "and the delicate touch he finds on the harmonies. He's like every member of the Dave Matthews Band and Boyz II Men rolled up in one prize wind-up teddy bear designed to beat a drum."
ADVERTISEMENT - CONTINUE READING BELOW
More than just a concert tour, Jason's worldwide journey will see him celebrating music's lasting power to inspire change and help others. His concerts are set to take him to iconic places in North America, Europe, Asia, Africa, and Australia such as the Sydney Opera House and New York's Carnegie Hall.


Jason gained fame for his sensational single, "I'm Yours." The track was featured on his RIAA platinum-certified album, We Sing. We Dance. We Steal Things. It earned ASCAP's 2010 "Song of the Year" award while also setting the record for the longest-running song in the 51-year history of Billboard's "Hot 100."


In 2010, Jason earned Grammy awards for the categories Best Male Pop Vocal Performance ("Make it Mine") and Best Pop Collaboration With Vocals ("Lucky" with Colbie Caillat).

Jason Mraz special acoustic evening with Toca Rivera is an upcoming concert organized by Dayly Entertainment bigwigs, Angelo Lapuz and Diego Pineda. Founded in 2010, the event production company has mounted a variety of concerts offering pop music and KPOP to punk, alternative and metal rock, to hip-hop and R&B. Dayly recently organized the Westlife Live in Manila for the Gravity Tour 2011 concert held last September 29 at the Smart Araneta Coliseum.


Adhering to their vision of bringing mainstream and indie artists, Dayly Entertainment brings Grammy Award-winning artist Jason Mraz back to Manila on October 30, 2011 at the Smart Araneta Coliseum.
For ticket inquiries, please call Ticketnet at Tel. No. 911-5555.