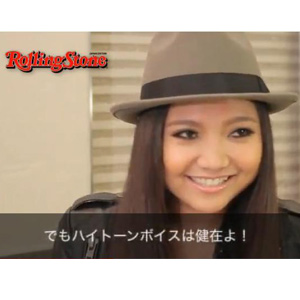 ---
Filipina singer Charice is enjoying a lot of support from Japan. Her album titled Infinity was released in Japan on October 5, 2011.

This 11-track album is a follow up to her self-titled album that allowed her to become the first Filipino solo artist to penetrate the Top 10 of Billboard 100. Her international album Charice, which has the carrier single "Pyramid," debuted at the No. 8 slot in May 2010.

Charice was recently interviewed by Rolling Stone (Japan edition) and her video was uploaded on the website of the said publication.

In her three-part interview, the singer opened up her projects, how she deals with criticism and her dream of portraying a killer in a horror flick.

Charice differentiated her Infinity album by saying: "The second album is a lot different from the first album. It has more dance songs. A lot of singers and producers worked with me...Bruno Mars, Natasha Bedingfield. It's very exciting and I can't wait for everyone to hear it."

Bruno Mars co-wrote the song "Before It Explodes" while Natasha Bedingfield co-wrote the song "Lighthouse."

She considers this album as her way of expressing her passion for dance.

"I think this album is a big challenge for me. The songs are dance songs...I love to dance actually so this album is like a dream come true for me. The songs will actually let me show my dance moves...not as great as Michael Jackson [laughs]."

The singer hopes that her fans will be supportive of her new project.

"The other big challenge...I hope people would still love it the way that they loved the first album. The first album was more ballad, more pop-R&B. You can still hear the belting high notes [laughs]."

After achieving so much in the international music scene, Charice expressed her gratitude for the people who helped catapult her to stardom.

"Sometimes I think I don't deserve it coz I know that there are a lot of great singers and better singers than me. I just think that I'm very lucky to be discovered by Oprah and David Foster."

The YouTube singing sensation admitted: "When I was a kid, I always wanted to be a famous singer in the Philippines."

At this point, the interviewer reacts by asking, "In the Philippines? Not in the world?"

Charice shook her head and emphasized, "In the Philippines...A lot of people say 'dream big.' But that time, I was like, 'it's never going to happen to me. I just want to be a singer in the Philippines.'

"You can't really tell and decide your future. Someone just saw me on YouTube and that's it...it was so fast."
ADVERTISEMENT - CONTINUE READING BELOW


ON HANDLING CRITICISM. Since her meteoric rise to fame, Charice has been a target of negative comments criticizing her physical appearance, her fashion style and other topics.

The singer revealed how she deals with detractors by saying, "They're just saying a lot of negative stuff because they're jealous. They're jealous that they don't have the great thing that's in you.

"They're just words, if you think about it. They can tell me, 'Charice is ugly.' They're just words, they're not going to kill you. If they tell you, you don't have the looks. Okay, as long as you're not stabbing me with a knife, I'm fine.

"Of course, it's going to hurt a little because it's you because it's going to affect you a little. But if you think deeper, why am I going to be depressed or sad? It's just words. If you actually show them that you're strong, they will still try to bring you down until you just give up.

"But as long you show them kindness or you show them that you're a strong person, they're the ones who are going to give up."


NO 'X FACTOR'? During the interview, Charice mentioned that she has been singing since she was seven years old. "I joined—literally—a hundred plus singing contests. It was really so hard..."

When the interviewer asked if she found it difficult to win singing contests, Charice confessed, "Yeah! There's a lot of talented singers in the Philippines..."

She then narrated an anecdote about a contest that pre-judged her because of her appearance.

"There's this story...I went to audition and it's so sad. They didn't let me sing coz they told me that I didn't have the looks. I'm not saying that I'm pretty like celebrities. I don't have the celebrity 'X factor' but my intention is just to share my music and talent to the world.

"It's so painful to have somebody tell you that you can't join this contest because you don't have the personality or the looks. It was so hard but I think that the greatest part is that I didn't give up and I went back to audition again. They didn't remember me and they told me to sing. I was prepared with a little makeup and [I wore] a skirt. They didn't remember me when they told me, 'You're so great! You're in!' I was like, 'Wow, you don't remember me. You told me I couldn't be in your contest coz I don't have the looks.' She just looked at me and she was just surprised.

"I was surprised too but it felt great actually. I just wanted them to know that it's not just about the looks. It's about the talent, it's about your intention."
ADVERTISEMENT - CONTINUE READING BELOW

FAMILY FIRST. Charice was raised by her single mother, Raquel, when her parents separated. Charice's younger brother, Carl Ceiven, is 17 years old.

The 19-year-old singer is glad that she is able to provide her family with comforts that they were deprived of while she was growing up.

"When I was four, I promised her, 'When I grow up, I'm going to give you a big house.' I gave her a house last year for her birthday and I gave her a car. I actually promised my younger brother that I would give him a car so I bought him a car.

"I feel happy coz finally, I kept my promise. After those hard times, people rejecting me and everything...From living without anything, without any bed, now we have our own house."


HERE COMES THE BOOM. When asked about her upcoming projects, Charice disclosed, "I just finished filming a movie. It's called Here Comes the Boom. It's an action-comedy. I play a high school student...a genius high school student. She still sings. It was a great experience.

"I love acting. I just finished Glee [Season 2] and the movie. I would love to do more. I would love to try horror but I don't want to play the victim. I want to play the killer...You know like The Ring or maybe The Grudge."

Charice then playfully acted as if trying to scare viewers.
ADVERTISEMENT - CONTINUE READING BELOW

The Filipina singer is slated to return to the Philippines for her October 25 concert at the Araneta Coliseum. Charice will perform with her mentor, David Foster, for the Asian tour of David Foster and Friends.

Guests featured in the concert also include Michael Bolton, Ashanti, Russell Watson and Philip Bailey of Earth, Wind & Fire fame.

(CLICK HERE to read related article)