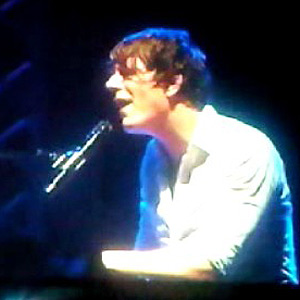 ---
Owl City's second concert in Manila was as special as it was magical.
Owl City, the stage name of multi-instrumentalist Adam Young, performed his hits to a packed NBC Tent, Taguig City, last Wednesday, October 28.
It was his second successful performance in the Philippines after a sold-out concert last March 2010.
Like his first concert, fans flocked to the venue early to wait for the artist, who hit fame in 2009 with the song "Fireflies."
"Fireflies" is from Owl City's first album from a major label, Ocean Eyes.
This year marked Owl City's second album from a major record label, All Things Bright and Beautiful. Most of the songs Owl City performed in the second concert were from this album.
Those familiar with Owl City's music know that his songs are complex pieces, using electronic tracks that represent the synthpop and indietronica genres.


His lyrics are also poetic and metaphorical, and hard to memorize. Consider this line from "Fireflies:"


"A foxtrot above my head / A sockhop beneath my bed / The disco ball is just hanging by a thread"

This is why it was magical to witness all of the audience singing to every song OWl City performed.
Owl City performed more than 10 songs, and the fans knew all the lyrics by heart.
Owl City's setlist included "The Tip of the Iceberg", "Angels", "Meteor Shower", "Hello Seattle", "Lonely Lullaby", "Galaxies", "Plant Life", "The Real World", "Umbrella Beach", "The Technicolor Phase" and "Fireflies."
Owl City was obviously giddy with happiness during the whole concert.


"Manila! You are magical!" Owl City told the audience before he performed his encore piece "How I Became The Sea."


"You're incredible and in time, Manila keeps getting more and more beautiful!" he added later on.


The concert lasted for almost two hours, and the energy did not let up, even when it ended.
ADVERTISEMENT - CONTINUE READING BELOW


Will Owl City be back? Perhaps, because he clearly loves Manila, and Manila loves him, too.